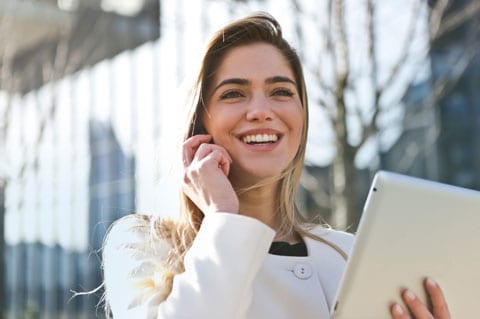 Generating leads is no easy feat. There are a myriad of components involved, and each one has its own set of best practices to achieve a good outcome.
If you're struggling to fill your pipeline with MQLs and SQLs, consider the following lead capture tactics to bring in new leads for your business:
Content Offers
While it's crucial to include evergreen content on your site to make sure your resources don't lose relevance quickly, there is something to be said for capitalizing on trending topics. Pay attention to what your audience or industry leaders are talking about, and create content around those topics to generate interest in your offers.
When it comes to trending topics, timeliness is key. If you can be the first one to make an in-depth content offer on industry buzz, you'll be able to provide unique value that your audience won't find elsewhere.
Calls-to-Action
To convince people to take advantage of your content offers, you'll need to create compelling CTAs. Use these tips to get more clicks on your calls-to-action:
Use Clear Copy
There should be no question about what action your lead needs to take and what they'll get from clicking your CTAs. Be as specific as possible in your download links, but keep it simple. Phrases such as "Download our free ebook" are more effective than something vague like "Click Here" as it gives direct instructions and shows the value of taking action.
Make Your CTAs Pop
A well-designed CTA will grab user attention and stand out from the rest of your page. Contrasting colors are a great way to bring more visibility to your CTAs. You'll also want to make sure your CTA looks clickable, so design your calls-to-action to look like buttons to eliminate any confusion
Shake Up the Action
It should go without saying that you'll want to have multiple offers on a variety of topics for your audience to tap into. Be intentional about which CTAs you place on your product or service pages and throughout blog posts and ensure the offer is relevant to that page's content.
Landing Pages
If you've done a good job with your CTAs, visitors will click through and be brought to a landing page. Your landing pages are essential for getting prospects to take action by downloading a content offer or signing up for a free demo, so you'll want to optimize them with landing page best practices:
Keep it Simple
Your landing page serves one purpose: to convince site visitors to submit a form, so you don't want to include a ton of graphics and text that distract from the primary goal. Copy should be short and sweet, briefly outlining the benefits of your offer to show the value of taking action. Landing pages cluttered with images can take away from the copy, so be sure to use minimalistic design.
Make Them Shareable
The more eyes you have on your landing page, the more opportunities there are for conversions. Add social sharing opportunities on landing pages to allow visitors to post your content offer to their social profiles. If a prospect finds your content particularly valuable, they'll be eager to share this information with their community, so make it easy for them to do so.
Want to see well-designed landing pages in action? Check out these examples of effective landing pages for some inspiration!
Additional Lead Capture Tips
Optimizing the different essential components of your lead generation campaign is just the beginning to a good lead capture strategy. Follow these guidelines to make your lead generation tactics even more successful:
Promote Content Within Your Offers
Your downloadable resources can be used to get prospects to take advantage of other content offers your company has. Including links to both downloadable content offers and blogs and site pages within your initial content offer can help further your lead in the sales process and collect even more information for your sales and marketing teams to utilize in your efforts.
Always Be Improving
"Set it and forget it" is a dangerous business mindset. Once you've created your marketing resources, you should be continuously analyzing the data with A/B testing to optimize all aspects of your content to see even better results in the future.
HeadsUp Marketing specializes in creating and implementing lead generation campaigns to grow your business. Contact us today to turn your online presence into a lead capture machine!