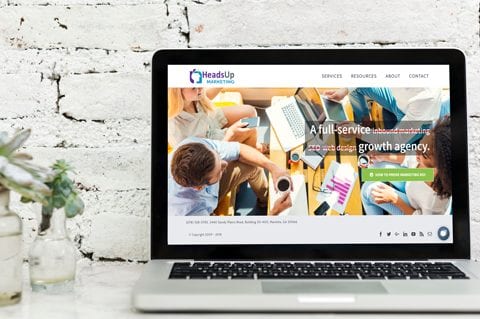 Websites are the biggest part of a business' online presence, which is why it should be simple for users to navigate your site and understand what you're about quickly. People have notoriously low attention spans and are quick to abandon things that don't immediately deliver what they're after. In fact, it only takes seconds for visitors to decide whether they want to stay on your site or leave it immediately.

User (Experience) Error
Usability directly impacts your bounce rate. Think of how many times you search for something on your cell phone. Now imagine if a website only worked on desktops and laptops. You wouldn't waste another second trying to navigate a site that wasn't responsive to your device, and neither will your visitors, regardless of the value your services provide.
39 percent of people will stop engaging with a website if images take too long to load, according to Adobe's State of Content report.
So why is it so essential to keep your target audience in mind when designing every aspect of your website? Ultimately, the site should serve the people who will benefit from your products or services. Otherwise, there's not much point. To create a website that satisfies visitors, you'll need to build it with a balance of good design and easy usability.
How to Design with Your Users in Mind
When designing (or re-designing) your business website, always put the user first. Here are three areas where you can implement a user-first mentality:
1. Page Navigation
If users don't understand how to get to where they need to go, you'll miss out on conversions and purchases. You want users to find whatever it is they're looking for easily, so don't make them jump through hoops to make it there. The fewer times someone needs to click through to get to their end goal, the better.
Implement a search bar so users can find any information on specific topics that may not be available directly from the navigation. This function is especially useful for blogs.
It's also wise to solve for website errors. Test your site to ensure that all links are working before you launch. Unfortunately, broken links are bound to happen, and that likelihood increases as your site grows. Be sure to customize your 404 pages to direct to useful pages instead of a dead end.
2. Menu Bar
People should be able to intuitively navigate your site without ever having visited before. You'll want to make sure the menu is simple because too many links will add clutter and distract from the sections where you want visitors to focus. Use direct, short titles for your menu options that define each page clearly.
Organization is another crucial component. You'll want to arrange your site menu in order of importance, with informative links on the left and action-oriented pages towards the right. Because we read from left to right, this allows users to naturally gather information about your company or services first, and become more involved once they've been convinced of your value.
3. Design
The right design can draw user attention to the most important parts of your site with something as simple as an attractive graphic. For the best user experience, you want your site to be pleasing to the eye. Certain colors and fonts may be visually jarring, some even going as far as to elicit headaches or eye strain for visitors.
Even with the best information and ease of navigation, visitors won't stay on your site if it's an eyesore. Keep your website design consistent across all pages. Each page should function similarly across the board, so users are familiar with the navigation regardless of where they land on your site.
Final Note
Usability will differ depending on the purpose of your website. For example, an e-commerce site will function differently than a blog or branding site might.  
As you design your site, remember to put users first. Focus on meeting their needs and work to align your goals (for example, lead generation) with those very needs. No one layout or concept will work for every site; above all else, your design has to make sense for your company and your target audience.
{{cta('71e3d605-11fa-462d-868b-fafc39589903′)}}