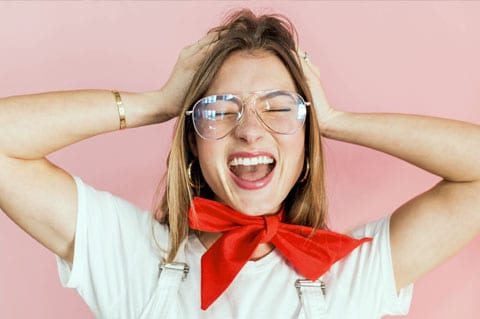 Prescription eyewear company Warby Parker provides reasonably priced eyeglasses that people can try on from the comfort of their own home. The business's inception came about when one of the founders lost his glasses during grad school and couldn't afford to replace them. As a result, he had to go entire semester without eyeglasses This experience inspired him to make prescription eyeglasses more affordable and easily accessible, and Warby Parker was born.
The process works with customers receiving five different pairs of eyeglasses of their choice. They receive these frames free of shipping charges and keep their favorite pair. Warby Parker's idea clearly resonates with people, as their customer waitlist reached a whopping 20,000 within just two days of their website launch.
It's more than just a great business model that has lead Warby Parker to their current success, though. Read on to see what tactics the eyeglasses brand used to make a mark in their industry:
Encouraging Customer Interaction
Warby Parker has done an impressive job of getting consumers to engage with their brand on social media through marketing campaigns featuring user-generated content. The company prompts people to post photos of the eyeglasses they're choosing from with the hashtag "#warbyparkerhometryon" to get the opinion of their social media followers before making the final call on a frame.
Another fun social media campaign took place during the holiday season, with Warby Parker sending a snowman-making kit with physical gift card purchases. Recipients were encouraged to share pictures of their snowmen using #warbysnowman. Warby Parker then took the photos from this campaign and presented them on a reused school bus.
These creative campaigns not only increased social media engagement but helped spread brand awareness, as well.
Staying True to Their Vision
Founded on the principle of helping others, Warby Parker has expanded its feel-good mission statement beyond its products and services by contributing to various charities. Warby Parker's one-for-one business model was inspired by TOMs, with the eyewear company donating one pair of glasses for every pair purchased from them.
Another one of the brand's notable humanitarian contributions is the Pupils Project. Warby Parker developed a collection of eyeglasses with all purchase proceeds going towards vision screenings for schools in Baltimore and New York.
Warby Parker's charitable efforts help their company stay human and prove that they care about more than just their bottom line.
Helping Customers See the Full Picture
While some brands may be eager to take advantage of less-informed consumers, Warby Parker aims to help their audience better understand everything there is to know about eyeglasses and their company as a whole. Their website features a glossary with eyewear-related terms and another page explaining how to purchase glasses and receive eye exams using insurance and money from Flexible Spending Accounts. Other useful information covered on Warby Parker's site includes a guide to getting glasses prescriptions and a look at how the company makes their eyeglasses.
Educating their prospects with valuable resources shows that Warby Parker is truly committed to the customer experience and that they want to make sure people are satisfied with their purchases.
While Warby Parker began as an online-only store, they have since expanded to include physical locations across the United States and Canada, a true testament to the company's success. By following in Warby Parker's footsteps with customer engagement strategies, a brand mission, and providing valuable information, your company will reach its growth goals in no time.