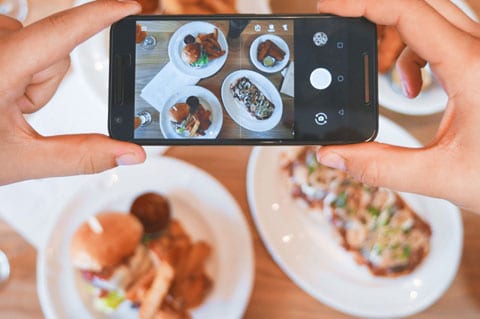 Word of mouth marketing is an incredibly powerful tool for growing your business. After all, would you be more trusting of a friend or consumer's view on a product or the company trying to sell you something?
Nielsen research shows that 84% of people trust recommendations from those they know. One such way to tap into this phenomenon is by utilizing user-generated content (UGC).
So, what exactly is user-generated content? In simple terms, UGC is any piece of brand content created with the help of your customers and followers. This can include anything from pictures and social media posts to written testimonials and reviews.
Why User-Generated Content Matters
There are plenty of benefits UGC can bring to your company. One of the main reasons user-generated content is such a great strategy is because it provides social proof for your products and services. If prospects see that other consumers are so happy with your business that they're willing to interact with the brand and talk about their experiences, it's more likely that people will see the value of what your company offers.
When customers post about your business to their social accounts, you'll also experience a boost in brand awareness, too. When your products get in front of the eyes of your consumers' friends and followers, your reach and impact will only grow.
User-generated content is an easy and budget-friendly advertising option, as it occurs with little effort or costs on your part.
Different Types of UGC
As we mentioned earlier, user-generated content can come in many forms. Here are a few of the most popular kinds of UGC to help you get started:
Pictures and Videos
Whether they realize it or not, when someone posts a photo or video of your products in action, they essentially become a brand ambassador. Visual UGC is particularly useful because they provide a tangible representation of your company's value without appearing too self-promotional.
Related Blog: 4 Examples of Successful Content Marketing to Steal Inspiration From
Reviews
Customer reviews are a tried and true form of UGC. These days, it is unlikely someone would dine at a restaurant without checking Yelp first, and it's becoming increasingly popular for prospects to do the same level of research before they decide to buy or enter a business partnership. In fact, 88 percent of consumers form a brand opinion by reading up to 10 reviews in research.
Company or product reviews can be as straightforward as a star or number based rating or as in-depth as a complete testimonial of their experience with your business. The more details a past or current customer provides, the better, as people are more willing to invest in something if they feel like they have the full picture of how a product or service will deliver.
Blog Posts
A blog post about your products or services is one of the highest compliments a customer or partner can give to your business. Blog posts about companies typically follow a review-type format, with details on the experience and perhaps including a how-to portion when appropriate. When users blog about your company, it can increase your website traffic and give your site a significant SEO boost, especially if the original publisher has great domain authority.
Social Engagement
People don't have to generate a full piece of content to be UGC contributors. Even a like or comment your social media is technically content created by your customers, and though it may be simple, you shouldn't discount its benefits.
Comments, in particular, are a great form of user-generated content as they can start a conversation with your audience and also show that customers value your company. However, any social media engagement will increase your post's reach, as most social algorithms prioritize showing posts that generate interactions on the feed.
How it Works
So, how do you get the ball rolling on user-generated content? The best way to make your audience want to interact and create content for you is through incentive. Try incentivizing people with a prize or implementing a contest. Another great way to collect UGC is simply by asking! Pose questions on social media, insert a clear call-to-action on blogs, or request testimonials from your most valued customers. When you ask, your audience will be more apt to answer in kind.
Want to learn more about user-generated content? The content creation specialists at HeadsUp are always available to answer any questions you may have about marketing. Reach out to us today!