I first heard of The Little Market at INBOUND 2018. Amidst all the marketing insights and inspirational keynotes, I ended up at Fashion Meets Female Empowerment, a fireside chat-style panel with designer Rachel Antonoff and Hannah Skvarla, co-founder and CEO of The Little Market.
This breakout session described its intended audience as "Aspiring social entrepreneurs and those who are looking to make a difference in the work they do day-to-day – whether that's in adding an impact arm to your business or the creation of a new social enterprise."
As an extension of meeting Skvarla, I was also introduced to her nonprofit fair trade shop and the social impact this organization is accomplishing worldwide.
What is The Little Market?
The Little Market is a nonprofit e-commerce store Skvarla founded with Lauren Conrad in 2013. They chose to use an online platform as a way to share handmade goods from around the world with a broad audience.
From the beginning, The Little Market has existed to empower female artisans. As the website states, "we develop and sell handmade goods to support dignified job opportunities for women facing hardships." The online store generates meaningful income for these women with every purchase made.
In a short period, The Little Market has grown to support 60+ artisan partners across the globe, and they even opened their first brick-and-mortar location in October 2018. Even with this growth, the mission remains the same: celebrating beautiful handmade goods, supporting dignified employment for women, and raising awareness for social justice issues.
Why Fair Trade?
Creative communities and artisans all over the world use their talents to make household goods that many Westerners don't give a second thought to when they purchase said goods.
The most significant way we can honor these artisans is by ensuring they earn a living wage; however, in the age of fast fashion, sweatshops are more prevalent than ever. The unfortunate truth is that affordable but trendy shoes and jeans often come at the cost of overworked and underpaid garment workers.
Fair trade principles put people (namely, the artisans who create handmade goods) first. Here's a snapshot of some of those values: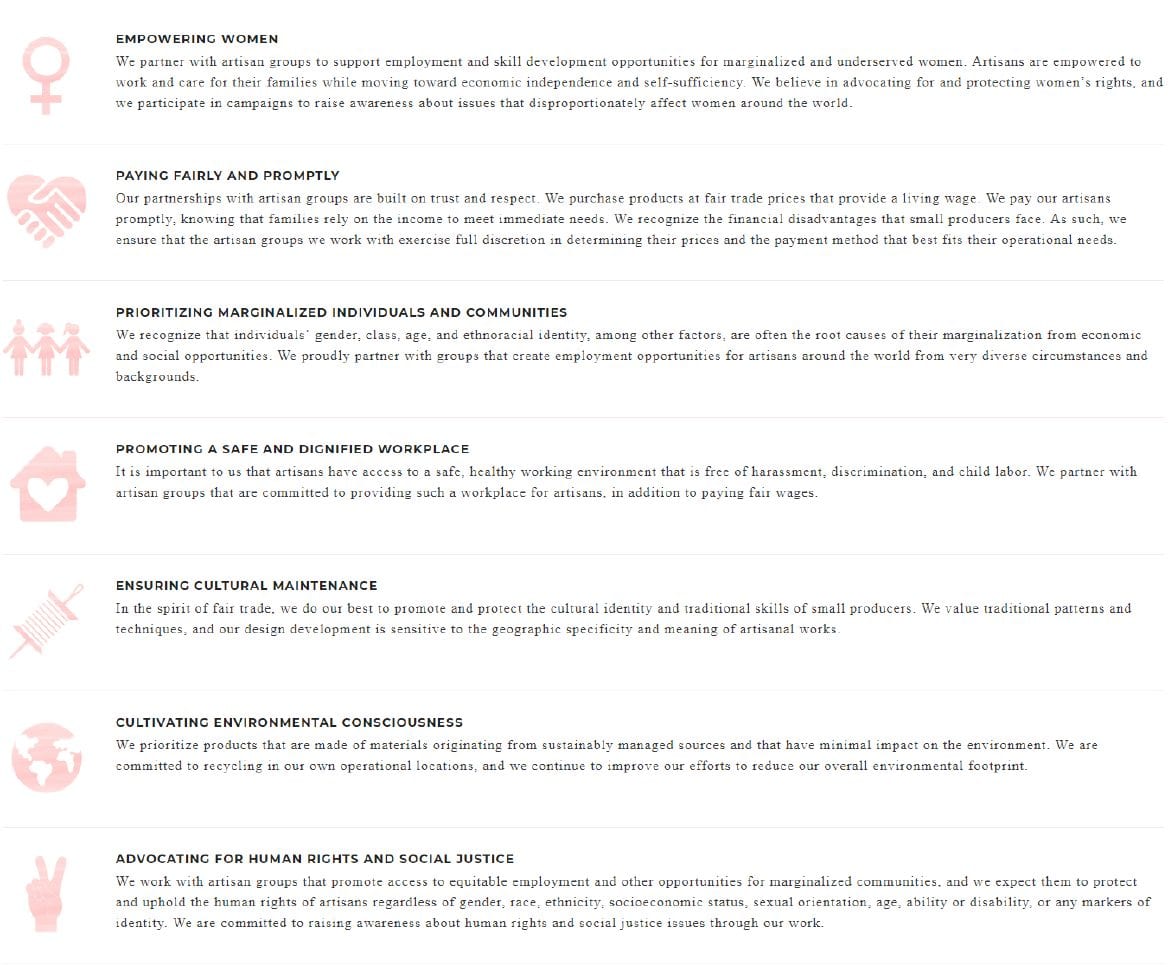 Source: The Little Market
Ethical brands and organizations that are members of the Fair Trade Federation stand for values such as safe working conditions and ensuring a product is made with minimal environmental impact.
Little Strides, Significant Statements
The story of The Little Market strikes a chord with me because I believe all businesses should operate from a "people-first" model. Here at HUM, that's even the way we do marketing – people to people, not business to consumer. No matter what industry you're in, we can all stand to be a little more human.
No, one nonprofit e-commerce store will not put an end to sweatshops altogether. However, with every sale, The Little Market ensures artisans earn a fair, living wage. One click to confirm a purchase goes a long way towards making a lasting difference in these communities. Not so little, in my opinion.
What values drive your business? We'd love to hear them! Contact us today or drop a comment below to connect with the HUM team.