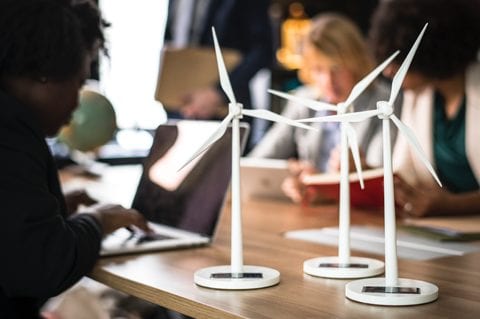 Eco-friendly. "Going green." Sustainability.
In the past few years, we've seen these buzzy terms pop up in corporate marketing campaigns and brand statements over and over. But for businesses, environmental responsibility is much more than just an overused word and cheery concept to generate favorable brand awareness.
What is Sustainability in Business?
As is often the case for marketing buzzwords, sustainability is one of those terms that you hear a lot but might not really know what it means. It can mean different things in various industries. However you define it, sustainability in business is driven by a desire to impact the environment and society positively. This might mean that your company uses recyclable packaging or maybe you donate team hours to charitable causes each year to do some good for your community.
Sustainability is about leveraging your business to help solve environmental and societal issues, whether you run a two-person operation or you're the CEO of a large-scale corporation.
Not Just a Marketing Tactic
On the surface, taking an eco-conscious stance is the sort of feel-good, do good approach that consumers love. And it often makes a profit.
According to the Shelton Group, 64 percent of Americans say a company's environmental reputation impacts their purchase decisions, and a 2018 Nielsen study found that products with sustainability claims usually outperformed the growth rate of total products in their respective categories.
Claiming to be sustainable and genuinely embracing a green business model are two different things, however. Those who find the most success with sustainability often walk the talk, as it were.
Being a good social and environmental steward can involve:
Selling ethically-sourced products or services
Partnering with sustainable vendors and suppliers
Reducing waste with a paperless work environment
And much more!
Ultimately, when a business commits to helping the environment, they don't just share emotional eco-friendly stories, but go one step further and put in work to make a positive impact on the world.
In the words of Alexandra Spiliakos, "'Doing good' can have a direct impact on your company's ability to do well." And when you strive to be your best – for the organization, for the community, and for the planet – your customers will take notice.
Final Point
Sustainability has invaded our business lexicon and the way corporations operate.
Here at the HUM office, our complex does not offer recycling, but we keep a giant bin in our building to recycle all those cans of LaCroix we consume as a team – among other recyclable items.
We also use LED bulbs and a water purifier instead of bottled water, which goes to show that you can take steps towards sustainability no matter how big or small your business is.
What does the term 'sustainability' mean for your business? Drop a comment below and let us know!