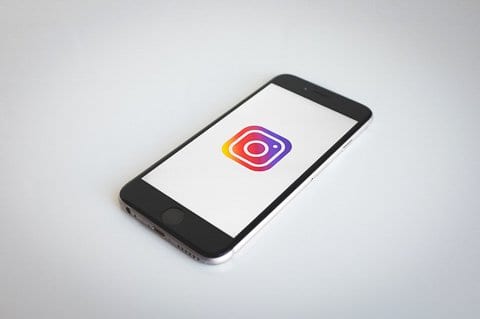 With a stellar social media strategy in place, you can share messages that align with your brand and even achieve company growth goals.
Whether you want more conversions or just a stronger online presence, you won't get there without putting careful thought into your social media marketing. Take a look at these four social media strategies to inspire your own:
iHeartDogs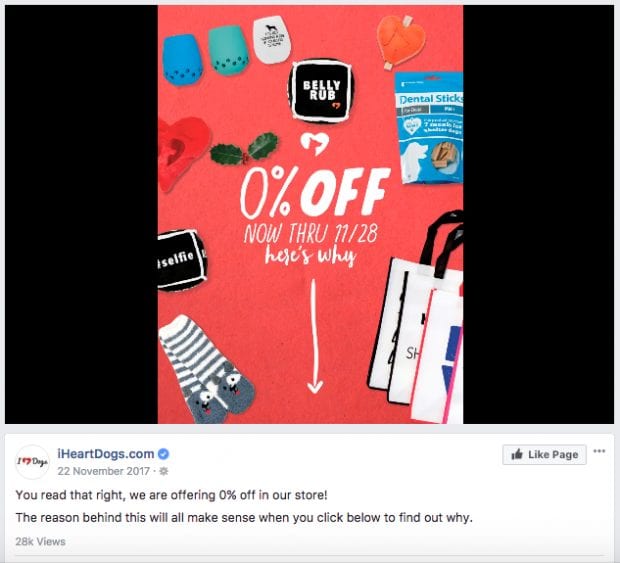 iHeartDogs is an e-commerce retailer that funds meals for shelter dogs with every purchase. From Black Friday to Giving Tuesday, they ran a Facebook ad campaign promoting a unique discount for buyers, and by that, we mean no discount at all. Instead of offering deals on their products, iHeartDogs made double the number of meal donations to animal shelters during the dates that the 'special' took place.
The timing of this social media marketing campaign played a crucial role in its success. While donating to a good cause is a worthwhile effort year-round, iHeartDogs tapped into the holiday spirit of Thanksgiving to make their strategy especially relevant. The ad copy also made viewers curious as to why the pet supply retailer would promote zero savings, increasing the overall click-through rate. iHeartDogs was able to stand out by doing something completely different yet totally appropriate for their brand.
How to Steal from Their Success:
Don't be afraid to stray from the norm.
Stay on top of holidays and current events.
Use copy to peak your audience's curiosity.
Kellogg's
uıɐƃɐ sn ɥʇıʍ ƃuıssǝɯ noʎ ǝɹɐ @Stranger_Things 'ʎǝɥ pic.twitter.com/uOAGlhSVgj

— Eggo® (@eggo) February 6, 2017
When Netflix debuted its original series, Stranger Things, it drew in millions of viewers almost immediately. While food isn't a significant factor in the show's plot, main character Eleven's quirky obsession with Eggo waffles stood out to fans. It's hard to find an Eleven Halloween costume that doesn't feature the breakfast food.
Kellogg's capitalized on Stranger Things' popularity by posting GIFs and using the show's hashtag to reel Netflix's audience into their brand. With playful posts and little effort, Kellogg's took advantage of the marketing opportunity and grew their reach as a result.
How to Steal from Their Success:
Research what's trending and tailor your posts to current interests.
Consider co-marketing opportunities that are beneficial for you and another brand.
Practice social listening to keep tabs on product mentions or conversations around the services you provide. Even if it's not referencing you specifically, you can still reap the benefits of a cultural phenomenon that focuses on something your company offers.
Wayfair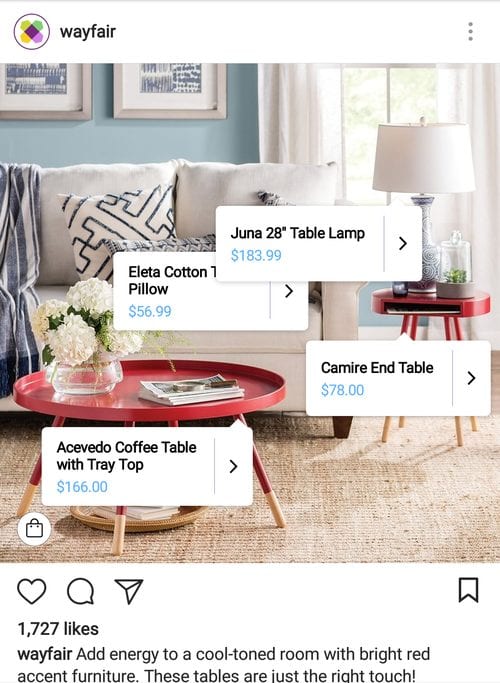 Wayfair makes use of Instagram's image-based platform by sharing a stunning visual of multiple products, showcasing an example of what buyers can achieve with the furniture items.
The home goods company makes shopping easy for followers, including links and prices to each product shown that users can click directly from Instagram. This custom strategy works because it's built around the social media platform and also minimizes the steps necessary for Wayfair's audience to make a purchase.
How to Steal from Their Success:
Play to the strength of each social media network when planning out your posts.
Show your products or services in action.
For e-commerce, make your purchasing process as simple as possible with in-app buying options.
Applebees
View this post on Instagram
Nowadays, diners are always snapping photos of their meals to share with their friends and followers. Applebees capitalized on this trend by encouraging people to share pictures of their food with "#Fantographer," which Applebees then shared on their Instagram.
This user-generated content worked as free promotion for Applebees, not only ensuring a boost in the restaurant chain's visibility, but also providing their marketing team with a variety of photos to curate from for new advertising strategies.
How to Steal from Their Success:
Find ways to encourage audience interaction.
Pay attention to buyer behavior and turn those actions into a fun social media activity.
Share user-generated content to show appreciation and incentivize engagement.
By being timely, playing to each platform's strengths, getting creative, and engaging followers, you too can see wild success in your social media campaigns.
Want to up your social game? The social media strategists at HeadsUp specialize in building an online presence using everything from regular posting to targeted social ads. Contact us today to get started!