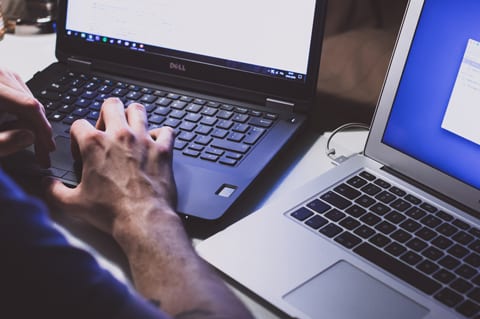 Brand awareness is crucial to the success of your business and sales; consumers won't buy your products or services if they don't know who you are. Luckily, you don't have to spend big bucks plastering your company on billboards to get your name out there anymore. Social media is a simple, cost-effective way to build brand recognition.
Setting Up Your Brand Image
Before you begin your efforts in increasing awareness of your brand, it's vital that your brand first has a sense of self. Think about the things that make your brand what it is, and tailor your social media so that presence comes through right away.
Make sure your branding is prominent across all channels. Use your logo as a profile picture and include it in your header images. Create a detailed bio so people know who you are, and include website links for more information.

Establish consistency. Always place your logo on the images you create, and incorporate your primary brand colors when appropriate.

Offer a look behind the scenes by streaming live videos of your office or conducting an

interactive Q&A session

to provide current and potential customers with a transparent view of your company.

Be wary about your posting schedule. Scheduling posts in advance is a great way to save time and ensure you're posting regularly, but you don't want them to be

too

regular. If you post at the same time every day, your company will appear more robotic than human.
What to Post
Don't share posts just for the sake of posting. Instead, ensure there's a strategy behind all your content. When it comes to social media, you truly are what you post.
Avoid over-promotion. Social isn't just another promotional forum. Follow the 80/20 rule and balance your posts with other content, like industry-related information, company news, and 'insider' insights so people can get to know you.

Share content related to trending topics. Weighing in on viral content brings a sense of fun to your brand, but make sure it's still associated with your business and not entirely random. To maximize your reach, be sure to post about subjects when they are relevant to the yearly calendar.

Share the right content on the right channels. Don't post the same things across the board; utilize each platform's specialties to get the most out of your social media presence. For example, an interactive .GIF might play well on Twitter, whereas a professional image would be more appropriate for LinkedIn.
Getting Your Posts Seen
Bringing in new followers is just the beginning. You should also aim for those followers to share your content with their followers. Create content that your followers will want to share to get your brand in front of people who may not already be familiar with you.
Create valuable infographics and visually appealing images, as well as videos. Make content that doesn't require people to leave their social channel of choice to view it. If the value is right there in front of them, people are more likely to share it.

Give people a reason to follow and share your posts with special promotions and contests. Choose offers that would be of interest to your target audience. One tactic is to create a promo that requires followers to share a post before they can enter the contest.

Make connections with social influencers to get your posts in front of a large audience. You could enter a mutually beneficial content sharing relationship, as long as their content is still on brand for your company. Depending on how valuable the content is, you may be able to encourage influencers to share your posts for free, too.
Engaging With Your Audience
Nobody likes talking to a wall. Interact with your followers to show there's a real person on the other side who cares about them.
Ask questions in your posts to prompt comments. Don't just assume that your followers will always have something to say. Start the conversation for them!

Like and reply to comments on your posts. Show followers that you value their opinions, and they will be more likely to continue interacting with you in the future.

Practice public customer service by responding to the issues people have with your company. Not only does this showcase transparency, but it can turn a negative impression into a positive one.

Be cautious when using automated messages. Bots are fine for a quick initial reply someone contacts you on social, but be sure to follow up with a response written by an actual team member. Take time to have a real conversation when people go through the effort of reaching out.
Today's world exists online, and so should your brand. Continue posting valuable content and interacting with social media users, and brand recognition is sure to follow.