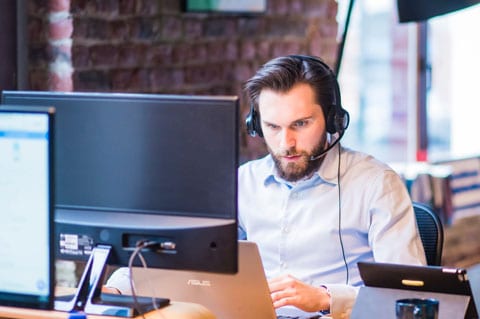 Sales are the backbone of business growth, so you'll want to do everything in your power to equip your sales department with the right materials and training to streamline operations. There are plenty of buzzwords surrounding sales improvement, which can make it difficult to discern which strategies will be most helpful for your company.
We're breaking down sales enablement and sales training to help distinguish the difference between the two commonly confused terms:
What is Sales Enablement?
Sales enablement is the administration of helpful resources that allow your sales team to do their job more effectively. The idea is to create a wealth of content that salespeople can reference during their pitches and customer interactions. Content creation for sales enablement is planned around a company's target buyer, with the goal of these pieces being to improve a sales team's ability to give prospects the right information at the right time. Sales and marketing materials should be varied and tailored to specific phases in the sales cycle so that you may reach a wide net of prospect types with relevant messaging.
What is Sales Training?
Sales training teaches sales teams the practices and methods necessary to operate productively in their role at an organization. Training programs cover a range of matters, from tools and technologies like a CRM to operational protocol. During their training, salespeople will learn about company-specific details such as Ideal Customer Profiles.
Sales training should occur in tandem with sales enablement. Make the most of the resources at hand; sales teams will need to know what information to use and when, as well as how to quickly access it. Additionally, sales reps who have grown accustomed to outbound techniques must be brought up to speed on how inbound marketing works and how to implement an inbound approach to their conversations.
Equipping your sales team with both practical knowledge and useful content is a surefire way to strengthen their selling abilities and increase your business's close rates. Our Marietta marketing agency utilizes content marketing to improve our clients' sales. Reach out today to enable your sales team for success!