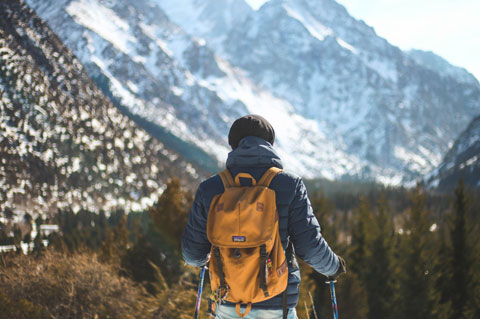 Patagonia founder Yvon Chouinard's passion for climbing began as a teenager, and as he continued to climb over the years, his love for the sport only heightened. Having always been a proponent of environmentalism, when Chouinard observed his climbing equipment marring the surface of rocks he made an effort to lessen his negative environmental impact by crafting his own climbing gear. He then started selling this equipment to other climbers, which eventually transformed into an outdoor clothing retail business, none other than Patagonia.
Putting Customers (and the Environment) First
Most businesses try to make as many new sales as possible. Still Patagonia takes a different approach that stays true to their mission of reducing our collective carbon footprint with their Worn Wear initiative. This portion of their company encourages people to reduce their consumption with the reuse, repair, and recycling of Patagonia clothing items. Patagonia offers cost-efficient repairs on their products as well as tutorials that give instructions on DIY fixes and maintenance to their clothes. Through Worn Wear, customers can also buy used Patagonia gear or sell their own and receive store credit in return.
These efforts prove that Patagonia cares more about giving customers the most from their purchases and adhering to their brand values than bringing in more revenue. As a result, they can build trust as a company and what they stand for.
Adverse Advertising
Black Friday is arguably one of the biggest consumerist holidays in America, with companies across all industries offering significant deals and savings during this time. Patagonia, however, regularly uses this holiday as an opportunity to promote their environmental values. The eco-friendly company has made big statements in their Black Friday campaigns that go against everything the holiday represents.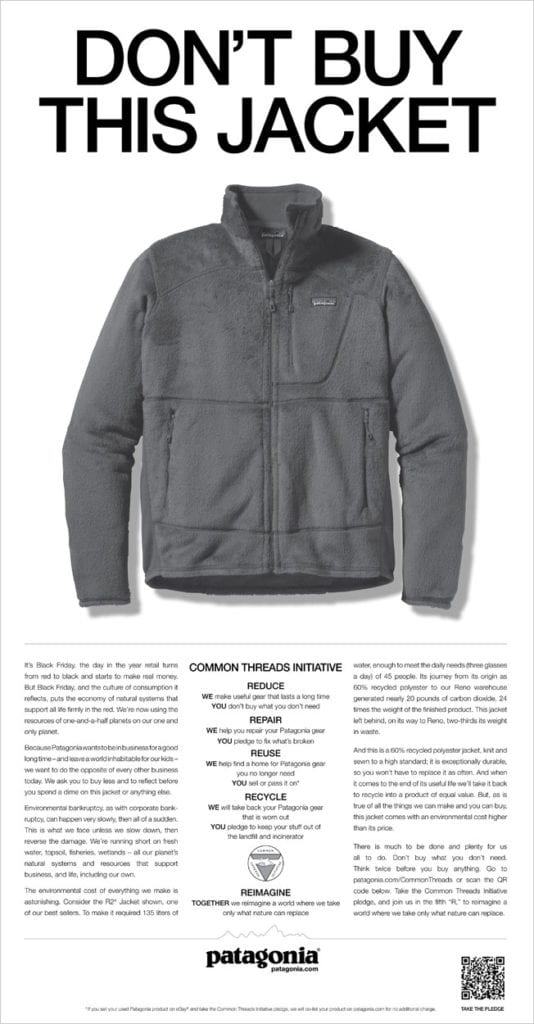 Source: Adweek
Patagonia placed a prominent ad in The New York Times in 2011 with large text stating, "Don't Buy This Jacket" to bring attention to the harmful impact consumerism has on the environment. In 2016, the outdoor clothing retailer donated all proceeds of the day's sales to organizations supporting environmentalism.
Ironically, the visibility gained from their 2011 Black Friday ad resulted in a 30% increase in revenue for the company. By going against the grain and staying true to their mission statement, Patagonia was able to promote their company values while improving their bottom line.
A Real Influence
Influencer marketing is on the rise, and Patagonia makes use of this tactic in an untraditional manner. The outdoor apparel company has compiled a group of brand ambassadors consisting of admirable athletes from a wide variety of outdoor sports. Patagonia regularly publishes blog posts written by their brand ambassadors that place a spotlight on these influencers' unique stories and adventures.
But it isn't just in their content marketing efforts that Patagonia's brand ambassadors take part in. The company also utilizes feedback from these influencers to improve their products. With their brand ambassador program, Patagonia is able to both tell compelling stories and gain valuable intel on the customer experience.
Patagonia's mission statement is to "Build the best product. Cause no unnecessary harm. Use business to inspire and implement solutions to the environmental crisis." The brand adheres to this vision in both their marketing and operations, alike. Their authenticity and commitment to eco-friendly practices has made Patagonia one of the most trusted and recognizable clothing retailers in their industry.
Do you need help telling your brand story in a way that resonates with your audience while still keeping growth goals in mind? Contact HeadsUp Marketing today to create an unforgettable company presence that boosts your brand awareness and bottom line!