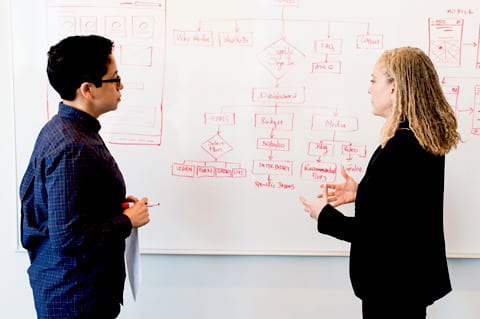 No matter your industry or company size, digital marketing is non-negotiable. While this may sound like an exaggerated statement, many of a business's online components such as websites and social media presence fall under the umbrella of digital marketing. So how do you know whether you should outsource your marketing to an agency? The following problems are strong indicators that it's time to seek outside help.
You Have Goals But No Direction
Whether you're after an influx of new leads or want to improve brand reputation, there's always a reason (likely multiple!) to implement marketing. While marketing goals may be apparent, the way to achieve them is often less so. Creating and implementing a well-thought-out marketing plan is a complex task that requires research and expertise. For those without any marketing background, coming up with a strategic plan can be daunting. A seasoned digital agency can easily turn your goals into actionable campaigns that address a business's objectives and yield real results.
Your Company Has Had a Major Growth Spurt
The larger a business grows, the more their marketing needs expand. A single in-house marketer or small marketing department may not have the capacity to maintain the same quality of work if their tasks increase exponentially. When you partner with a creative digital agency, your marketing department can focus on their core roles while ensuring new arising needs receive attention from seasoned professionals.
You're Missing Certain Skills
Digital marketing is a multifaceted operation. Effective campaigns consist of compelling copy, attractive visuals, and search engine optimization, to name just a few components. Even a single sub-par aspect of such needs will lead to sub-par results. Expertise in every facet of marketing is a lot to expect from you or one of your team members. Online advertising agencies employ a group of specialists that excel in their dedicated role so that campaigns are not only fully-rounded but uphold the highest quality in every regard.
Your Marketing Results Are Stagnant
Maybe you've tried handling your company's marketing needs yourself with relative success. If your efforts fail to see progressive results over time, however, you'll need to outsource to true marketing professionals in order to get over the hump. Digital marketing agencies regularly evaluate campaign performance to optimize strategies based on data. This agile approach promotes growth and keeps marketing methods fresh.
Outsourcing your marketing to a creative agency can save you and your employees from headaches and produce enhanced results. The HeadsUp team utilizes client-specific strategies to meet the demands of each business we work with while employing current industry best practices. Reach out today to see if we're a good fit for your digital marketing needs!