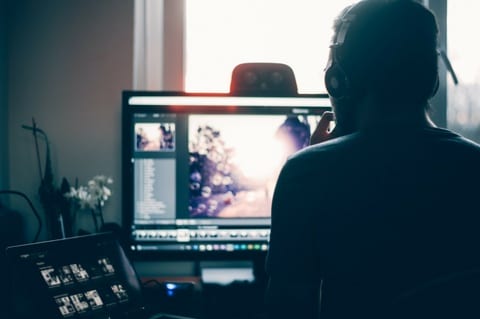 Video captures people's attention unlike any other medium.
Unlike writing, audio-only and still photographs, video is the form that allows for the most personality in your message. Movies blend the three other mediums to bring you the ultimate multimedia experience.
Consider your own viewing habitats. How do you like to take in information? How do you like to research businesses?
Regardless of personal viewing preferences, incorporating video into your business's marketing strategy is a must. By mixing up how you tell your message, you're given the platform to tell it in a more appealing way.
You might be scared about the complexity of producing a marketing video. But done correctly, a compelling marketing video is simple to pull off. Not to mention, it will work wonders for your brand's exposure.
Video Equipment
A common misconception here is you don't need a thousand-dollar camera to film quality video.
Remember, you're not a low-budget filmmaker creating the next beloved indie film. You're telling your brand's story in a personal way. Don't let lack of "proper" equipment get in the way of that.
These days, some cellphone cameras are good enough to produce quality video you can use for your website. Also, you can't go wrong with a low-cost digital camera and some free video editing software.
Types of Videos to Create
Your business has plenty of options when using video. It's important to define what you're trying to accomplish and the message of each film.
Slowly work your way up in terms of scale. Which means, it's maybe not the best idea to try and start with a viral video that'll get millions of views.
One helpful place to start might be adding a personal touch with video to your email campaigns. Or film your customer testimonials to make the more personal and appealing.
It's also smart to use film to build off the content you know your audience likes. Is there a blog post you know your audience loved? Create an accompanying video that gives more information or supplements the post.
Steps to Creating Quality Video
Again, keep it simple. You don't need a call sheet. Start with a simple script that has a clearly defined message.
The script needs to be tailored to toward what your audience wants to know and will love. Always keep that in mind when writing.
If the content is clear and helpful, people will enjoy your video. It doesn't matter how basic the quality of production is if the quality of the content is excellent.
Entertainment is a factor. But keep in mind, all fluff and no substance will annoy your audience and risk losing them for good.
All that is left is to record, edit and disseminate.
This article is the first in a series of posts on how to use multimedia platforms to impact your digital marketing strategy. Stay tuned for more.