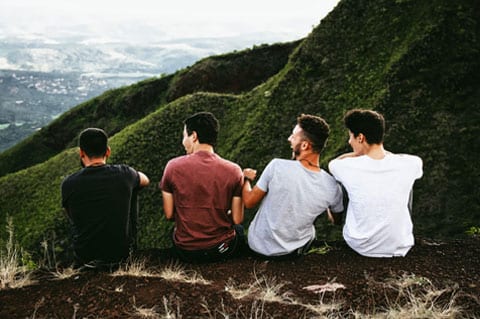 Marketing towards the male population has changed a lot since the Mad Men era of advertising. Where campaigns once relied on tired stereotypes about gender roles and masculinity, marketers are now diversifying their messaging to appeal to a wider audience. From making people laugh to defying preconceived notions of what it means to be manly, these three video campaigns made a mark in men's advertising:
Old Spice
, "The Man Your Man Could Smell Like"
Old Spice took a unique approach to targeting by seemingly aiming their ad for men's body wash towards women. Their viral video features an attractive, shirtless man creating a fantasy of what life might be like if he were a woman's boyfriend. This tongue-in-cheek stud states that by using Old Spice, men can get one step closer to achieving his dreamy status through scent. Though appearing to people's natural desire to be seen as a catch by the opposite sex isn't a new marketing tactic, this quick and funny clip does so by addressing their audience indirectly, bringing a creative spin to the typical adverts seen for men's grooming products. 
After the campaign's initial success, Old Spice took their marketing efforts a step further with a Q&A video campaign that addressed their social followers' questions. By marrying innovative advertising and audience engagement, it's no wonder that the "The Man Your Man Could Smell Like" campaign skyrocketed Old Spice's product sales. 
While many men's grooming products try to appeal to masculinity in efforts to convince people to become customers, Philips puts the focus on using their product not because it will make you more manly but because it's what right for you. Though the idea of shouting men may bring about thoughts of hypermasculinity and aggression, the words behind the yelling create a dichotomy between sensitivity and forcefulness that illustrates how multifaceted today's men are. This creative advertisement empowers men to make their own decisions based on what's best for them instead of bullying them into making a purchase to conform to societal standards of masculinity. With a focus on how their products can help instead of using cheap scare tactics, Philips' "Shouting Men" video campaigns are a refreshing change from stereotypical men's ads of the past. 
Dr. Squatch Soap Company's video marketing campaigns are an advertising force to be reckoned with; each video is the perfect combination of entertaining and informative. Filled with giggle-worthy sexual innuendos, Dr. Squatch inserts plenty of humor throughout their advertisements to keep people watching as they learn more about the benefits of all-natural soap. While laughter may capture audience attention, advertisements for the men's soap company certainly aren't lacking in substance. In between jokes, their charismatic soap spokesperson relays their soap-making process and makes use of social proof. With creative campaigns that are both fun to watch and informative, Dr. Squatch is a fantastic example of content marketing done right. 
Whether it's a progressive stance like the well-known Gillette "The Best Men Can Be" campaign or simply a viral ad that inspires laughter such as Dollar Shave Club's first promotional video, we see more diversity in advertising for men's products than ever before. As International Men's Day draws near, we're excited to see what creative campaigns join the ranks!