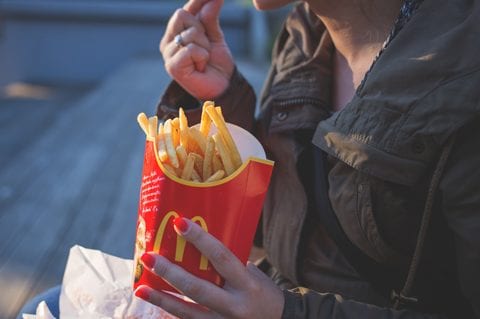 You'd have to be living under a rock to have never heard of McDonald's.
Delicious Big Macs and perfectly salted fries are a huge draw for the fast food company, but tasty food isn't the only way McDonald's has achieved so much success in the wake of disruptive innovations like mobile ordering.
These strategies have kept the restaurant chain as a top competitor in the industry. In this article, we outline McDonald's evolution to stay relevant and how you can utilize their techniques for your own business:
Building a Strong Brand Image
When you see the golden arches, you know that a McDonald's restaurant is nearby. This iconic symbol is a true testament to how good logos and company image lead to powerful brand recognition. In recent years, McDonald's employed a simple yet effective jingle with their "I'm Lovin' It" campaign, initially voiced by musician Justin Timberlake.
While Timberlake's superstar status may have brought attention to the tune, the campaign has lasted long beyond this partnership. The jingle is now so widely known that many can identify the melody without any accompanying vocals. By implementing a relevant brand strategy and adapting it for modern times, McDonald's is now one of the most easily recognizable companies in the world.
The Takeaway: Branding is a huge component of how the public views your company. Take careful consideration into the design of your logo and other brand strategies to create an image that is uniquely you.
Giving Customers What They Want
McDonald's understands the importance of listening to customer feedback and adapting processes to benefit consumers. One such example of this is the emergence of their all-day breakfast menu. McDonald's enthusiasts have long lamented the fact that the breakfast options halted at 10:30 am, and the fast food company listened. In 2015, they rolled out a new all-day breakfast menu.
The Takeaway: Take the time to listen to your audience so you can give them a better overall experience and have your services meet their demands.
Discover more ways to spark social media success with our blog on Restaurant Marketing Ideas: A Social Media Strategy That Works
Embracing Technology
By 2020, most of McDonald's U.S. locations will feature touchscreen kiosks, forever changing the way ordering is done. These self-service machines allow patrons to order from the full menu and pay for their meal all from the same place, making the ordering experience more accessible than ever.
The Takeaway: If you don't take a new approach to your business, you could get left behind. Implementing innovative technology can not only streamline operations, but also make customer service more efficient.
You won't reach new heights without changing your processes to meet market demands. By using out-of-the-box strategies and considering your target audience with every service you offer, you can make sure your company stays around for the long haul.