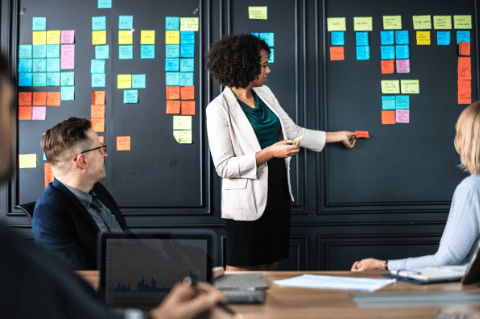 As the year comes to a close, all planning and strategic marketing efforts should move into 2017. Making plans for the future doesn't just involve tactics, however. It's important for you to understand the essential components of a successful marketing plan before you can build your strategy for the coming year.
Your marketing plan for the new year should be made up of three core elements: objectives, strategies, and tactics.
Your Guide to Making a Marketing Plan that Wins
To achieve maximized organization and success, develop your marketing plan in three parts:
Step 1: Define the objectives.
Your company's objectives are the driving goals of your marketing efforts. They must be SMART – Specific, Measurable, Attainable, Realistic, and Timely.
Focus on the most important objectives for your business (those that push sales and prove ROI) while avoiding goals that are unclear. For example, instead of making "drive website traffic" a 2017 objective for your business, create a SMART goal to "increase website visitors from 12% to 20% by the end of Q1."
Step 2: Identify the strategy.
Often confused with tactics, your strategy is the path you use to achieve your company objectives.
In the example goal to "increase website visitors," strategies could include:
Website optimization
Updated keyword research
Targeting referral traffic, and so on
Note: Depending on the scope of your company objective, you may need to utilize more than one strategy.
Step 3: Roll out the tactics.
Once you know which strategies you'll be using to achieve your objective, you can begin to identify the specific tactics and initiatives you want to use to make it happen.
So if you choose to undergo website optimization as your strategic approach, you can now start determining concrete actions such as:
Ensuring quick load times and responsiveness
Updating your site navigation
Investigating your on-page SEO
Creating a consistent and frequent blog calendar
Promoting your content via social and other channels
It's easy to see how a clearly defined objective enables you to explore the many different ways (or strategies) you can achieve your overall goal. And as a result, you can easily determine the right tactics needed to carry out such strategic marketing plans.
And remember: in an ever-changing business environment, it's incredibly important to maintain flexibility. Create a winning marketing plan but don't be afraid to make changes throughout the year as new opportunities arise.
Want to learn more about how to build a truly effective marketing plan for your business? Start by checking out our eBook about proving and measuring ROI.