Have you noticed your local results these days aren't making a whole lot of sense? 
Take, for example, the results I got back for "billing services":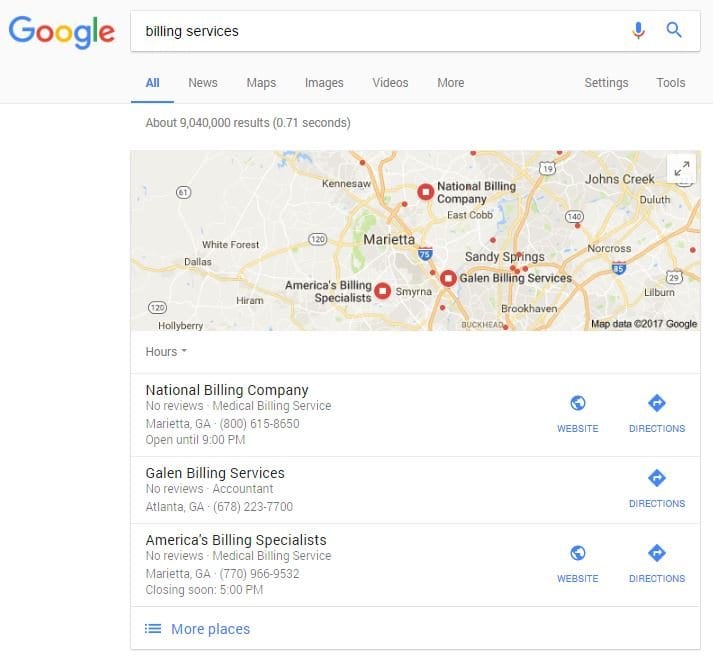 This query was searched in an incognito Chrome browser in Marietta.
Let's take a closer look at the underlying local ranking factors for these results:
It's clear that:
None of these businesses have claimed or verified their listings
None of them have any reviews on Google
One of the businesses doesn't even have a website!
Hey, Google. Are you sure there aren't any more prominent businesses that rank for this term?
I'm going to share that data table again, adding on proximity to searcher this time.

Each of these businesses are so nearby that the longest journey would take less than 15 minutes by car. And this got me thinking. What if the #1 ranking factor in local SEO has changed? What if proximity to searcher is the new top factor impacting today's local search results?
For a further example, I searched up a handful of different terms to see if the results were similar. Here's what I noticed after the fifth query ('electrician'): not only was proximity deeply affecting the results, but the Ad results almost always had better ratings than the results below it.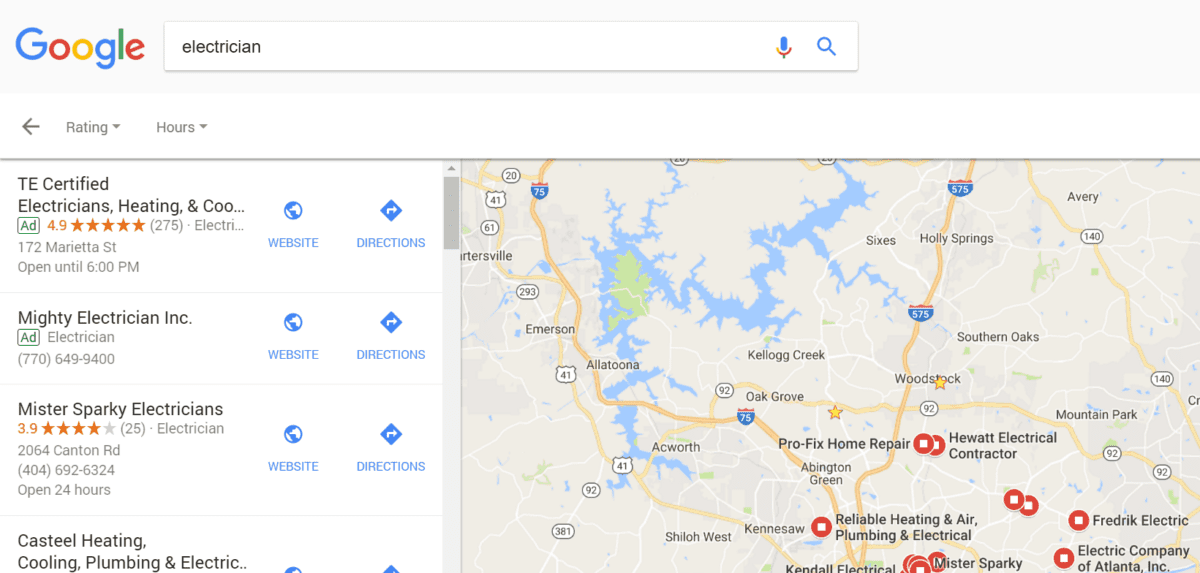 Faced with these options, I'd probably think twice before passing on the company with 260+ positive reviews… even if they're located in Alpharetta.
It looks more and more like local pack rankings are tied more to proximity than factors such as links, website content, and citations. Even reviews have less weight in local search. When determining which businesses to rank in their local pack, Google doesn't appear to value the traditional ranking factors.
Instead, it seems the primary consideration here is "Which businesses are closest to the searcher?" This change-up in Google's traditional local search ranking factors has been a growing trend in the last year, but it appears to have increased since the Possum update.
Why?
Why would Google do this? The most obvious and cynical answer: to sell more ads.
Google has a few ways to reduce the impact of traditional local search factors, which can end up increasing ad revenue for Google:
If it's harder to get an organic rank in the local packs, business will be pushed to pay to get seen in Google's new paid local packs.
Local packs used to be limited to one pack per city and keyword combo. But now, there are local packs across the city in the thousands. If Google creates a new pack for every mile, they will drastically increase their proverbial 'inventory' to sell ads.
As I said above, you can click on "More Places" and see Google is already displaying ads in the Local Finder.
While the proximity push inevitably impacts Google's ad revenue, I don't think that's their only goal. I believe that they earnestly think it's a better user experience to return closer businesses. And it's something they've been working on improving for a while.
Proximity-based results suck.
As it goes in most of today's business categories, emphasizing proximity this much is a poor way to rank for results. I don't care if a hair salon is nearby. I want to get my hair cut by a reputable stylist who does good work. The best salon I've ever visited is a good 30 minutes out of my way, but the quality of service was worth every extra mile I drove. And if I'm craving Chinese food, I want the best in town, not the stuff they're serving half a mile up the road. The same is true for nearly every business category I can think of (outside of emergency services or gas stations).
People are looking for the best, not the closest businesses. If this emphasis on proximity-based results is Google's new standard, I suspect people will turn to sites like Angie's List and Yelp when they search for businesses. I know I already have.
How this affects your local SEO strategy
Local SEO isn't dead. And while this shift hasn't killed local SEO, it has made it more competitive. The overall reach your business can have with local results is that much smaller, which means it's time to step up your local organic and optimization game.
If you still want your business to rank in the local finder or pack, you need to up your optimization efforts.
Look for outliers: What companies are getting pulled into the rankings from a far searcher distance? Study these companies and determine what they're doing to appear in a wider radius. Specifically look for the type of content, links, reviews, and mentions they're churning out.
Use your local organic opportunities: There may be less local pack real estate for you, focusing your efforts on content and links continues to be valuable. Localized organic results still offer great city-wide opportunities for your business.
Get beyond Google: Are you on Yelp yet? Make sure you're on sites like Better Business Bureau, TripAdvisor, etc., and that each profile is claimed and optimized. From there, start driving reviews to these sites. If the local pack results are no good, a lot of people will scroll to find Yelp's list of the Best 10 XYZ in Your City, as an example. That's a list you'll want to be on. If users ditch Google based on their low-quality results, you need to be ready and waiting on other sites.
Yes, the emphasis on proximity has tightened the local search radius. No, that doesn't mean your efforts are over. While Google's focus has moved to the vicinity of the searcher, it's also opened the opportunity for your business to attract locally in a variety of ways. There is still plenty of fish in the sea and enough business to get from local search… as long as you're willing to diversify your local SEO strategy.