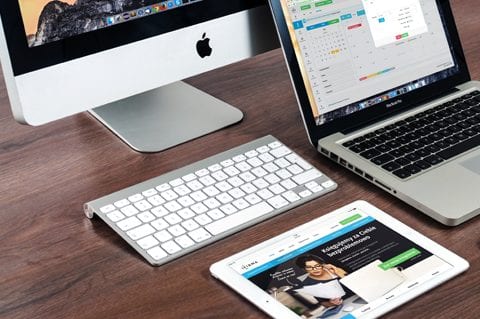 Lead generation comes in many forms, and content offers are one of the most effective lead generating techniques out there. Try these lead gen content types to grow your business's prospect list:
Templates
Humans are lazy by nature, so providing a way to make their work easier is something that many will be eager to take advantage of. Whether it's a worksheet, email, design, or another type of template entirely, providing easy-to-use resources that visitors can customize to their needs is an incredibly valuable offer.
Example: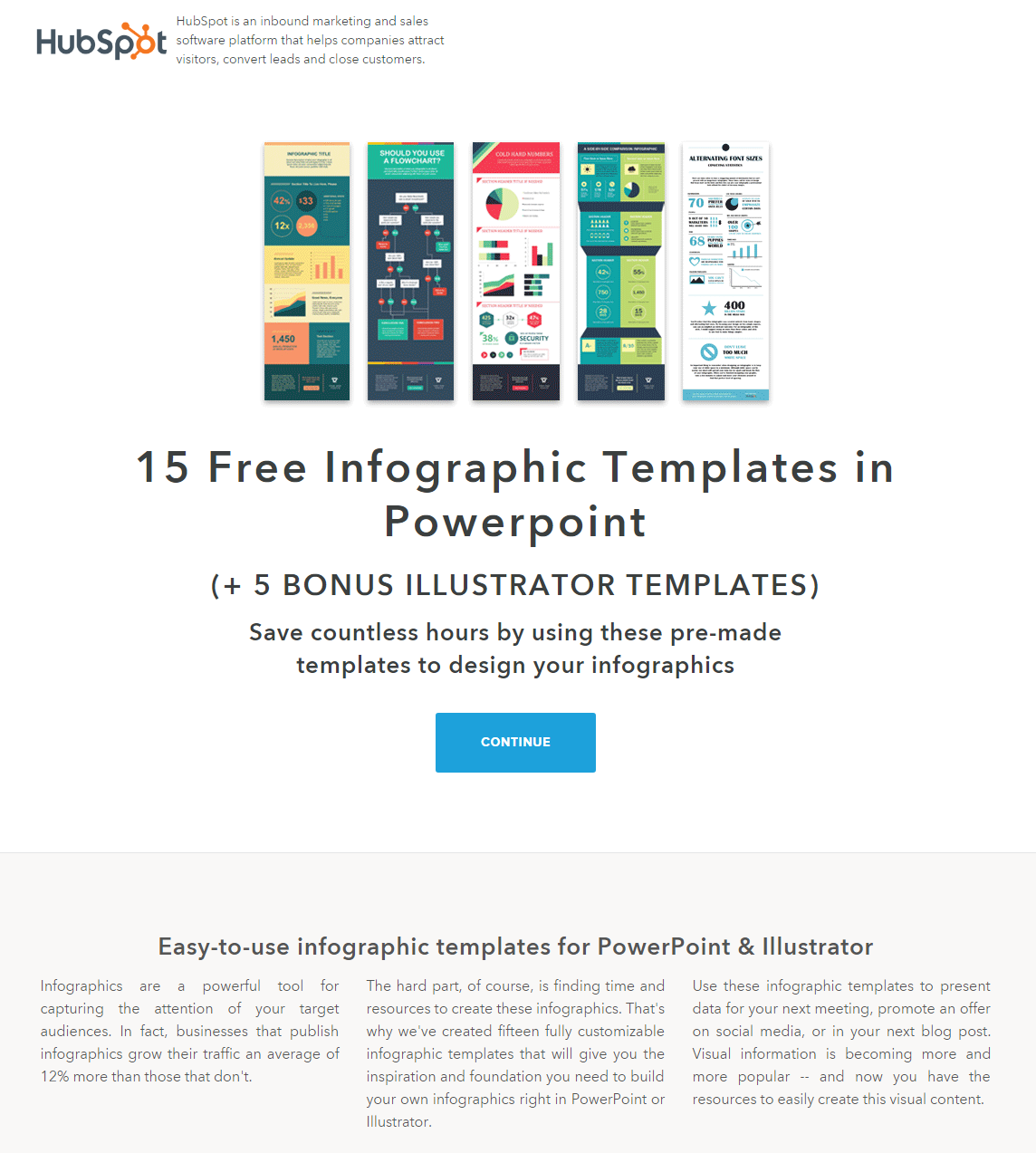 HubSpot's infographic templates are a fantastic example of how to position downloadable templates. The landing page clearly outlines what the visitor will get from the download, from the number of templates included to the value of the resources. But HubSpot doesn't just give the offer away without asking for something in return, of course. For visitors to download, they must submit a form with details like email and company name. By collecting information like contact details and answers to questions such as types of services their company sells, HubSpot can make smart marketing outreach decisions based on the individual.
Contests
Everyone loves free stuff, especially when they don't have to put in much effort to get it. Outside of generating leads, social media contests are a great way to increase your reach and capitalize on your existing following. Not all giveaways will bring in new prospects, though. To grow your pipeline, you'll want to include a form as part of the entry submission in addition to the other contest rules.
Example: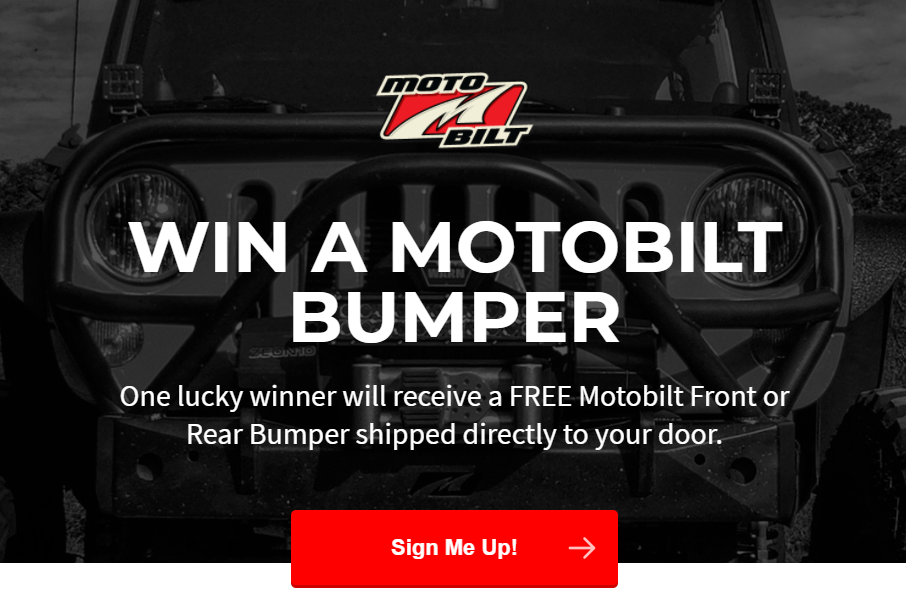 Car parts retailer Motobilt held a contest where the winner received a free front or rear bumper, requiring participants to provide contact information upon contest entry. This lead gen content works because they featured a reward related to their products. With this positioning, the retailer was able to capture leads that are interested in Motobilt car parts.
Free Trials
Have we mentioned that free is one of people's favorite words? Just because a prospect is interested, that doesn't necessarily mean they'll be sales-ready. A free trial or product demo is an excellent way to show value to lukewarm leads. While some people who take advantage of a free trial may have no intention of buying, this is the perfect chance to hook them on your services and change their minds. Because a free demo is such a high-value offer, don't shy away from asking for as much information as you need in your submission form. One thing to avoid, however, is requiring credit card information. Free should mean free, with no hidden fees or gimmicks attached.
Example: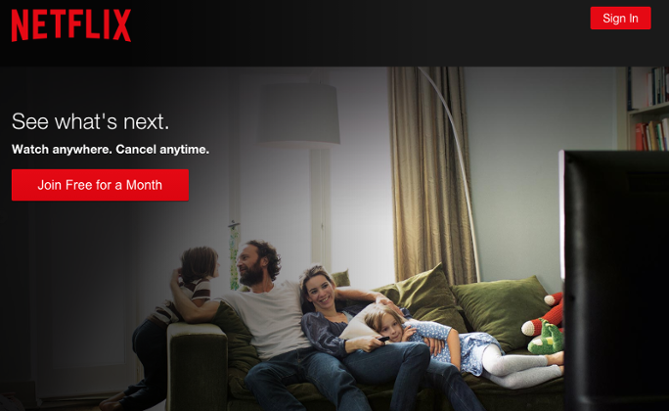 Netflix's online streaming services are one of the most popular alternatives to cable television. The company offers a one-month trial so people can experience the service before making a long-term commitment. The call-to-action is effective because Netflix tells users how long the offer lasts, as well as including a visual of customers enjoying the service to generate excitement about the trial.
Blogs
Regularly publishing fresh and valuable content is a fantastic way to attract prospects to your site. With keyword research and SEO best practices, you can tailor content to what your target audience is searching for so that the right people find your posts. A company blog will also help establish you as an industry authority and showcase your market knowledge. To optimize lead generation opportunities on your blog, be sure to include CTAs for relevant offers.
Example: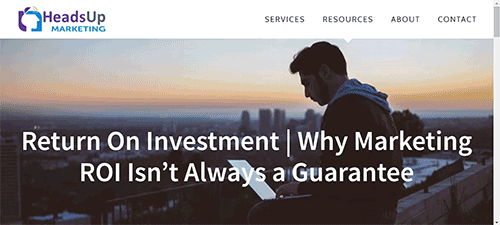 In every HeadsUp blog, we include a CTA linking to a relevant landing page or offer. You can see the evidence yourself with the below call-to-action, or review our blog on proving marketing ROI. At the end of the article, you'll find a visual CTA for the Executive's Guide to Marketing ROI. If a person is reading that particular article, it's likely they're interested in marketing ROI, so our guide is a natural next step.
By changing up the types of content you use for lead generation, you can begin to capture new prospects at every stage of the buyer's journey. The most successful lead gen campaigns feature multiple offers for visitors to benefit from, so don't feel like you have to stick with just one content type.
Want to see your pipeline grow? HeadsUp Marketing specializes in creating lead generation campaigns that deliver quality leads to your sales team. Contact us today to get started!