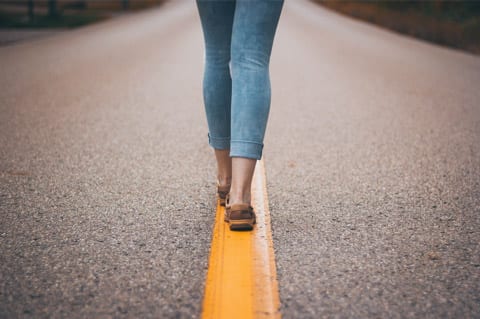 You can't grow your business without new leads, but how do you get them? Inbound marketing generates leads using online campaigns that first garner attention and then hand off information from interested parties to your sales and marketing teams. There are four main stages to the lead generation process, with each one building upon the previous step:
Step 1: Discovery
The first stage of the lead generation process occurs when a visitor finds your company via online marketing efforts. Bringing in your target audience is a result of a combination between content marketing and search engine optimization. You'll want to publish a wide selection of informative resources that help visitors gain a better understanding of their pain points. Content types for your inbound marketing campaigns may include blog posts and well-built site pages, among other online components. Be sure to utilize keyword research in your content calendar planning and copy to increase your SERP ranking while simultaneously catering topics to your target audience's interests.
Step 2: Call-to-Action
A visitor then clicks on a call-to-action that promotes a specific activity. CTAs can range from in-text links to graphic buttons. Regardless of what kind of CTA you use, they'll need to stand out from the rest of your page to draw attention. Implement bold, contrasting colors and clear, concise copy in your call-to-action so that people not only notice your CTAs, but are eager to click on them. You'll also want to tailor calls-to-action to the content of the page a visitor is currently on. Prospects are more likely to engage with a CTA if it's relevant to what they're researching.
Step 3: Landing Page & Content Offer
The CTA will bring prospects to a landing page, a designated web page that provides an offer people can take advantage of by giving out their contact information. There are a variety of different formats you can use in content offers, from ebooks and webinars to more interactive pieces like templates and calculators. Your lead magnets should be chosen based on what format lends most helpful to the topic in question and what your target audience is likely to be interested in.
Step 4: Lead Capture
Each landing page will have a lead capture form that contains prompts for information a lead must fill out in order to receive your offer. Your sales and marketing teams then use this information, along with the visitor's history of the site and company interactions, to implement marketing strategies that move the lead further along the sales funnel. It's important that the amount of personal information on forms is equal to the value of your content offer. The more enticing a content offer is, the more your audience will be willing to give you in return.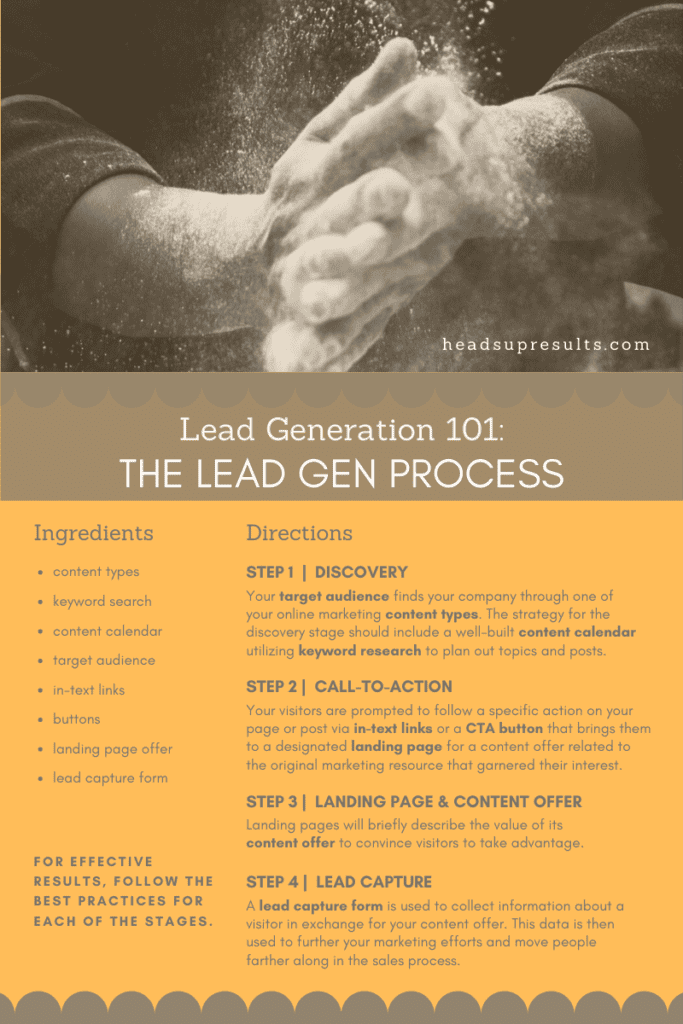 In order for the lead generation process to be effective, you must follow the best practices for each of the stages. If even a single component of your inbound marketing campaigns is off, visitors won't reach the next step in their journey to becoming a lead. HeadsUp Marketing specializes in creating fully-rounded lead generation campaigns that address each and every step of the inbound marketing process with detail and data behind our strategies. Reach out today to learn how we can help your company get more leads!