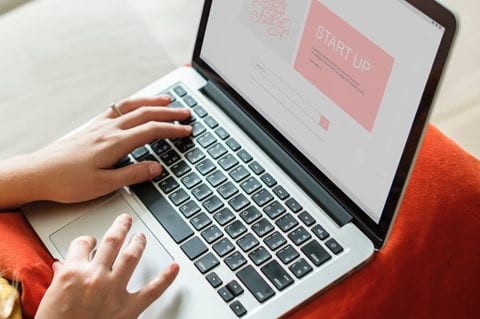 Landing pages are the center of your lead generation universe. Every online marketing effort should tie back to a specific landing page.
But what qualifies as a landing page? Every web page is a potential "landing spot" for visitors, but not every one is a landing page.
A landing page is any web page that has a form and exists solely to turn visitors into contacts. Which means their only purpose is to capture visitor's information through a form and convert them into a lead.
With so much emphasis on driving visitors to this destination, everything you on your landing page should support your goal of converting targeted traffic into leads. Ultimately, these pages help your business thrive.
Here are three landing page best practices we've learned along the way while creating outstanding landing pages for our clients:
1. Write Clickable Headlines
Writing a headline that grabs attention is critical to the success of your landing pages. Your headlines are the first (and perhaps only) chance you have to make an impact. And if users stop after the first thing they read, there is essentially no hope for conversion.
Creating the perfect headline is a delicate balance between descriptive and creative. Be sure to write headlines that are enticing, yet informative, to capture visitors' attention and clue them in on what the content is about before they click.
2. Remove Navigation
Other web pages are built to be more educational and include a navigation menu for users to easily move from page to page. But not landing pages.
Landing pages are unlike any other page on your website. Their sole focus is conversion, nothing else. Without page navigation, the visitor's focus narrows to exactly what they are on the page for, to share their contact information in exchange for a content offer or demo request.
3. Describe Your Offer
Be detailed, and focus your messaging around what value the potential lead will get from your offer. In other words, make sure your landing page copy addresses why the eBook, consultation, or subscription is beneficial. How will they grow? What will they learn? How will your content help them? You must be consistent with your messaging, especially throughout the conversion process. Provide accurate descriptions and set proper expectations to build trust, avoid annoying readers and improve your lead quality overall.
Want to learn more about landing pages? Check out the following articles:
The landing page is an excellent marketing tool for any business website. Irresistible headlines, hidden navigation, and descriptive copy are just three elements needed to create landing pages that deliver high conversions. Drop us a line today if you'd like to learn more about how to generate leads with landing page design!
Editor's Note: This post was initially published in January 2016 and has been updated for clarity and accuracy.