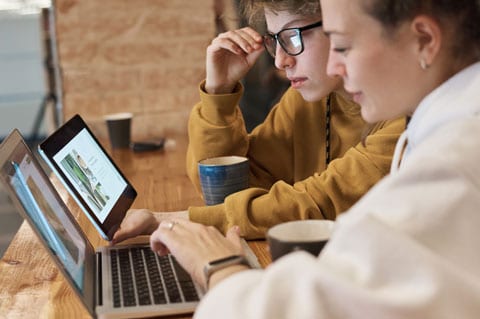 Traditional marketing has one main goal: bringing in new leads and business. While growing your customer list is great, it's pertinent that you don't lose sight of your company's purpose of helping them out. Attention to customers should extend beyond just reeling them in, which is why inbound's customer-centric methodology is beneficial for businesses and consumers alike.
The inbound methodology takes place in three major stages: attraction, engagement, and delight. Carry out a customer-focused approach to your marketing with these steps:
Attracting Customers
Attraction brings your target audience to you by publishing useful content they're searching for. These resources won't just tout your own products or services but should offer practical information related to readers' pain points and questions. Posting helpful well-covered materials will bring your company more visibility and establish industry authority.
How to Attract Customers:
Plan your editorial calendars around relevant keywords and optimize all content formats with SEO best practices.
Utilize specific targeting options in social media advertisements to keep posts in front of interested parties' eyes and away from those who won't get any benefit from your subject matter.
Engaging Customers
Engagement takes place when you actively communicate with prospects and customers, ensuring that each interaction is helpful. Throughout the engagement phase, you'll also give insight as to what your company can do to solve a consumer's pain point. The idea is not to create a sales pitch, but rather to offer a fix to their problem while also growing your customer base.
How to Engage Customers:
Take advantage of an already active community by initiating discussions and being responsive on social media channels.
Implement chatbots on your website to answer questions and further visitors' interactions with your brand.
Delighting Customers
The delight stage of inbound marketing aims to make sure all your customers are, well, delighted! This step should be a mainstay in any business, but many marketing strategies put much of their focus on increasing sales without dedicating equal time to customer satisfaction. In reality, delighting clients does actually help your bottom line by boosting customer retention rates and making room for referral business. But most importantly, the delight stage helps customers, which is what inbound is precisely all about.
How to Delight Customers:
Offer special deals or discounts for current or repeat customers to show appreciation for their brand loyalty.
Send out customer surveys to evaluate your performance and consider that feedback for operations and client communications. Be sure to thank people for taking the time to respond, as well!
The key to obtaining and retaining quality customers is to keep them at the focus of everything you do. With inbound on your side, you'll target the right people and tailor your online presence to their needs for a win-win marketing strategy.
Ready to start helping customers with inbound? Chat with HeadsUp today to bring your business's marketing to the next level!