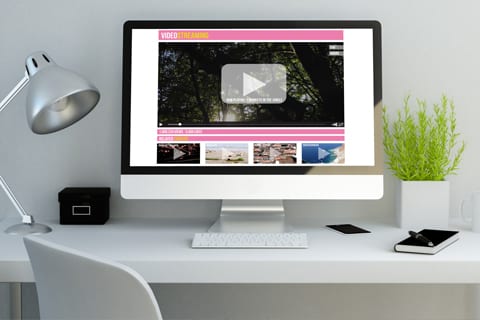 As the internet continuously lowers our collective attention spans, the popularity of videos is soaring with their visually appealing nature and ability to deliver easily digestible information in mere minutes. Companies incorporating video in their social media strategies are growing revenue 49 percent faster than those who don't utilize videos.
The benefits of creating videos as a part of your marketing plan are clear, so now there's only one question left unanswered: why YouTube? Well, the video hosting site has been wildly popular since it was introduced in 2005, taking a little more than a year for Google to see its value and purchase the platform. In fact, YouTube is the internet's most visited site besides Google and Facebook. With more than 1 billion hours of video being watched on the site every day, its viewership surpasses that of Facebook video and Netflix, combined.
If you want to capitalize on YouTube's success (and you should), follow these guidelines for a successful channel:
Metadata
Simply put, metadata is all the information about your video, such as the title and thumbnail photo. Each metadata segment is an opportunity to increase your brand's SEO:
Titles
Name your titles creatively and accurately. Be specific, not generic; there are millions of videos out there, so you'll want to show the value of yours right off the bat. Use keywords first, followed by branding. Titles should be 50 characters or less to prevent them from being cut off.
Description
No more than the first 100 characters show up above the 'view more' cut line, so be sure to include the most critical information at the beginning of your description. Input your website URL to increase traffic to your site, or add a CTA to entice viewers to take further action elsewhere.
Tags & Categories
Utilize categories and tags. Use different keyword variations, so people find your content regardless of which search terms they use. When using tags, list the most relevant ones first, as YouTube may prioritize the first labels over ones listed later.
Thumbnails
Create visually appealing title cards for your videos. If you don't have time to craft a custom thumbnail graphic for every video, that's fine. Just make sure your image capture isn't an awkward timestamp of someone mid-speech.
Closed Captions
Enable subtitles and be sure to edit them for accuracy. Not only does this make your content accessible to the hearing-impaired, but plenty of people prefer to watch videos without the sound on. Subtitles also provide another chance to improve your SEO with keywords.
Branding
Customize your profile with branding to stand out from other channels. Use your logo as your profile photo, create a custom header image, and fill out your profile with accurate and useful information, like your company bio and a link to your website.
Create and upload a channel trailer that explains who your company is and what you do. This featured video plays automatically and is the first thing users will see when visiting your channel's page.
Video Quality
Don't just settle for creating videos; ensure your videos are well-made and useful, or risk viewers abandoning your content altogether. Consider the following tips to make certain your content always looks professional:
1. Use the right tools
Invest in a good microphone to produce high-quality sound. Use a tripod or other methods to steady your camera and guarantee your shot isn't shaky.
2. Choose a good filming location
Make sure there's no ambient or background noise to distract viewers. If you decide to use an outdoor area, you'll want to film during daylight hours or use proper lighting equipment.
3. Stick to a plan
Storyboard your video before you start shooting. You don't have to carefully follow a script, as that might come off as unnatural, but completely winging it can lead to rambling with no sense of direction.
4. Don't forget about editing
Be sure to film plenty of footage so that you have lots of different scenes and dialogues to pick from. You may even want to shoot the same scene multiple times so you can choose the best one to include in your video.
Additional Tips
Create playlists of similar content.

If viewers found one particular video useful, guide them to other related content to help them learn more about the topic. Once you have someone viewing your video, why not show them what else you have to offer?

Post regularly.

People won't keep visiting a dead channel, and it looks bad to just have one or two videos on your page. Think of fresh ways to keep the content coming, like with a series or regular feature.

Voice a call-to-action.

Just because it's a video doesn't mean you don't need a CTA. Tell your viewers what you want them to do and explain how to get there. Encourage people to subscribe to and interact with your channel to increase viewership.

Interact with your viewers.

Give "likes" and direct responses to the comments on your videos to let users know you're listening and you care.

Perfect your timing.

The best performing videos are under two minutes. However, advertisements that see the most views are typically 31-60 seconds long.
Video marketing will continue to grow over time; be sure to start utilizing it now, so you aren't left in the dust. Not only is YouTube an excellent tool for embedding video content to your website without eating up bandwidth, but the popular platform increases your company's chances of being seen.