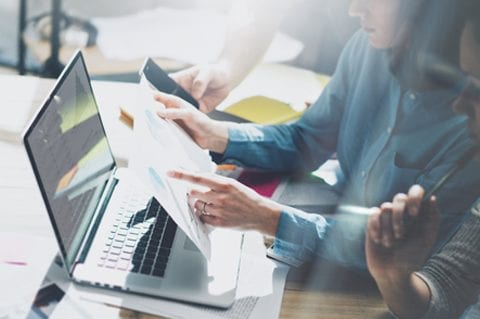 Whether you are a CEO or small business owner, questions like "What makes a website successful?" and "What makes a website rank?" can plague the minds of professionals looking to grow their business online.
A few years ago, all you needed was great content and user-friendly web design to get the ranking you desired. Today, it takes a lot more than content for your website to score big.
The most successful, highly ranked sites have a strong performance, are optimized for mobile and search engines, and have SSL security enabled.
Elements of a Great Website
It's not just about design and content these days. Having a successful website comes down to four main elements and knowing the right ways to improve in each area.
1. Performance
A strong website performance is determined by how quickly a website loads content for each visitor. The quicker your site loads, the stronger your site's performance. Many pages can be slowed down by simply not having browser caching or render blocking. Make sure your load times aren't compromised:
Compress and resize images when you can.
Minify all code, especially JavaScript.
For longer pages, defer loading certain content until the user starts scrolling.
Make sure your CTAs or other strategic assets aren't the last element loading on the page.
2. Mobile Optimization
Think of mobile optimization as how well a website loads and performs on a tablet or mobile device. Great websites use responsive web design to improve their mobile readiness. To optimize your site for mobile:
Input your site into Google's Mobile-Friendly Test tool to discover where your site stands.
Focus on mobile behavior in your next website redesign.
Determine what optimization option is right for you (responsive web design or a separate mobile site). We recommend responsive design search engines favor it, but either will do.
3. Search Engine Optimization (SEO)
From page titles to meta descriptions, you should be using SEO for every page on your website. The trouble is, as a new web page is added, SEO might start to fall through the cracks. Certain contributors might be less trained in SEO basics and simple errors like overlooking a heading tag can cause several pages to have no optimization. To improve your website's SEO, take these steps:
Perform an internal assessment of your site. Look for (and address) missing page titles, heading tags, and meta descriptions.
Consider creating a site map to provide visitors with easy navigation and as a result, positively impact your overall SEO.
Think about any pages on your site that might be competing and try to consolidate duplicate pages or create a cross-linking strategy.
4. Security
Secure Sockets Layer, or SSL, creates a secure tunnel between your website server and each visitor's web browser. Not that long ago, Google announced that SSL would become a ranking factor in search results. Here are a few ways you can enhance SSL on your site:
Enable SSL capabilities in your content management system.
Contact your website host's customer support and development teams about prioritizing SSL and request a timeline to press the issue.
Consider moving your website to a host that provides SSL as a key feature if your current host doesn't provide you with a definite timeline for SSL protection.
As with all things inbound, your website improvements should occur frequently and over time, not on a 'set it and forget it' basis. For example, undergoing a massive site redesign every few years is less lucrative than you might think. To get started, try using a free grading tool* to quickly run the numbers and figure out what changes you can make to have a successful website.
*HubSpot's Website Grader is an excellent tool that gives you a breakdown of what your website's strengths are while also highlighting what areas need improvement.