Year after year, businesses recycle the same seasonal messages and don't think twice about the negative impact.
Generic company greetings are more common than uneaten fruitcake during the holiday season. And just like fruitcake, no one particularly likes one-size-fits-all email marketing.
So, with the holiday season upon us, we've come up with a list of ways to build a successful holiday email marketing strategy: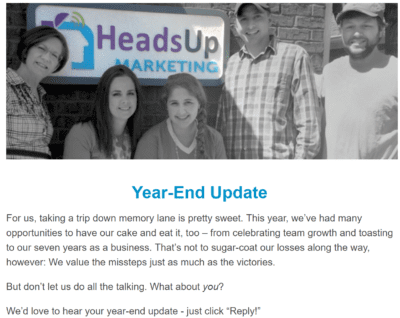 1. Write Like a Human Being
To write like a human instead of a corporation, try incorporating your brand's personality. Sprinkle in a personal touch with photos of your team or an unfiltered reflection of the year's events. If you have a signature sense of humor, now is the perfect time to crack a joke or two.
Another way to ensure your message connects is through segmentation. Holiday emails are often sent to three groups: Prospects, Customers, and Employees. Instead of lumping them together, segment your greeting so the content can vary from group to group.
2. Keep it Simple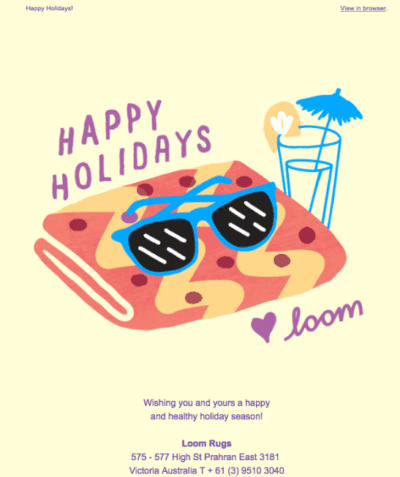 Although it may seem contradictory, stick to the basics to create a holiday email that stands out. While fancy graphics, fun fonts and festive colors are enticing, they can distract from the true focus — your message.
As you craft the email, consider your ABCs:
Articulate – Your holiday greeting should be served up as a bite-sized morsel that's easy to read. In most cases, no more than 2-3 sentences will do the trick.
Branded – Utilize your standard fonts and brand colors to create a sense of familiarity for recipients.
Classic – Email design is all too easy to overcomplicate. Try out a template that incorporates a single image and plenty of white space.
A clean layout and simple design will set the stage for your message to shine.
3. Ditch the Sales Pitch
Your holiday greeting is not another opportunity to promote your brand or push your newest service offering.
In fact, the holiday season is the most appropriate time for a company to share heartfelt sentiment. There's no better time to send a gift-wrapped email, whether it's a sincere note to wish your blog readers well, or a simple "thank you" to your dedicated clients.
Sample Copy: Wishing you a holiday season wrapped up with cheer, and full of celebration for the New Year! Happy holidays from the B2B Business team!
With a little time and effort, you can create an email for prospects, customers and staff alike that's personal, humble and genuine. No matter who you're emailing, your goal stays the same: to extend your warmest holiday wishes.