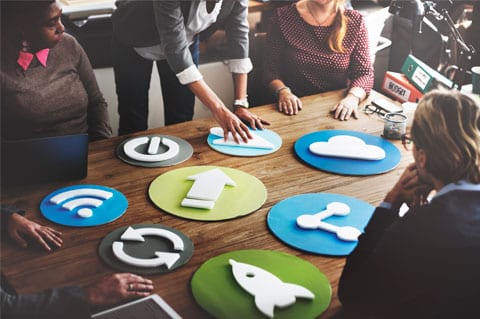 In the ever-changing world of technology and web design, once impressive websites can grow stale in an instant. So how do you ensure your company website isn't outdated? The answer lies within Growth-Driven Design, also referred to as GDD, a concept that factors updated best practices for industries and design alike into every step of your site's design process.
Implementing GDD for website development and redesign involves using shorter development cycles to focus on analytics that take a more proactive approach to improvements. Essentially, this means that you continually add value to your website based on data from user experiences.
The Problem with Traditional Web Design
In a traditional website design project, the development cycles are much longer, which doesn't allow for much change. If you plan a website and build it for three months, you might go live only to discover that your users want a new feature or that your business itself has been modified. This means that your freshly launched site is already in need of an update.
Basically, traditional web design suggests you leave your website stagnant for a couple of years until it becomes so out-of-touch that an update or redesign is mandatory. Once it comes time to redesign, the project will take three months (or even longer) before your updates are ready to go live. However it's only a matter of time before the process has to start all over again.
This approach drastically depletes your company site's value as you wait for necessary changes to take place, which is a huge waste of time and resources.
What is Different about Growth Driven Design?
The GDD approach to website building and redesign is fundamentally different from the traditional method.
First, it emphasizes shorter development cycles for design to provide a functional "launchpad site" within a month of the agreement. Rather than building out the entire website in one go, the GDD approach creates a smaller site that incorporates the 5-6 pages that are the most important for lead generation and conversion. This strategy allows your business to bring in prospects from the get-go rather than having to wait for an entire website to be built to start seeing the value.
The key to Growth-Driven Design is its continuous process. You start small and keep optimizing and adding content based on results/what will be most fruitful.
With GDD, you never stop working on your site and finding opportunities for improvement. There is no two-year wait to see if you need a new design to generate leads. The great thing is you can keep repeating this process to improve results as best practices and your target audience's needs alter in real time.
Combined with inbound marketing techniques, GDD can help you grow your website traffic and improve customer conversion rates immensely.
Want to know if Growth-Driven Design is right for your business?  Contact HeadsUp Marketing today a free consultation.
Editor's Note: This post was initially published in March 2016 and has been updated for clarity and accuracy.