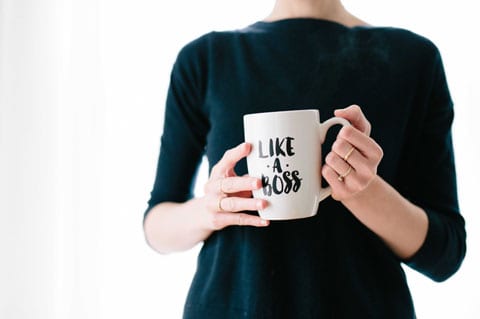 In recent years, feminism has become marketable for businesses across all industries. Many companies now gear their marketing campaigns towards women, tackling hot button feminist topics in advertising to make waves and appeal to female consumers.
While using feminism as a marketing tactic may seem bleak, plenty of modern businesses are keeping women in mind not just in their campaigns, but in the products and services they sell as well.
These three feminist brands are disruptive innovators putting a twist on what their industry offers to better cater to women's needs:
From the gender pay gap to sexism in the workplace, navigating the professional world as a woman can be a headache.
InHerSight is a website where current and former employees anonymously rate female-friendly working conditions such as maternity leave policies. The site features reviews on companies both large and small, with an optional feedback section so users can elaborate on their past and present employers' company culture.
The professional, female-driven website aims to help women make more informed career decisions so they can feel safe and valued in the workplace. InHerSight is a digital space for women to voice their workplace experiences and companies to see where they stand in terms of creating a pleasant working environment for all employees, regardless of gender.
Though most grooming products provide the same outcome whatever the consumer's gender, many everyday items add around a 42% price increase, commonly known as the pink tax, when marketed to women.
Billie, a "female first" subscription box shaving company, saw this unfair treatment and decided to do something about it. The company offers shaving accessories sent right to customers' doorsteps without tacking on an additional tax just for being a woman.
Pricing isn't the only way Billie keeps women's needs in mind with their products, though. Because men and women shave differently, they designed a razor equipped with five sharp blades for all womankind to enjoy a smooth shave.
For more than 100 years, women's razor brands haven't shown women's body hair… until now. Introducing Project Body Hair. A celebration of body hair, wherever it is or isn't. See more: https://t.co/UdKKQApFoF. pic.twitter.com/Aj4CNTtdHQ

— Billie (@billiebody) June 26, 2018
Billie's advertising efforts also take on the double standard women experience when it comes to body hair removal. Traditional razor ads feature women using products on already silky-smooth legs without a hair in sight, but not Billie. In one ad, the subscription shaving company features shots of women removing visible body hair on areas such as toes, armpits, and stomachs. With its Project Body Hair, Billie celebrates women's body hair without making its existence seem unnatural or shameful.
There's a big stereotype when it comes to women and clothes – that we all live for shopping and think finding new outfits is both fun and a breeze. For many women, especially busy, career-minded professionals, this couldn't be further from the truth. However, even if you don't care about fashion, clothing does play an important role in our everyday lives, particularly when it comes to professionalism.
To solve this catch 22, clothing startup M.M.LaFleur launched a line of professional women's wear with an accompanying clothing delivery service where items are picked out by a stylist based on the body type and personal preferences of each customer. This no-muss, no-fuss approach to shopping allows women to curate a professional wardrobe without having to spend valuable free time looking for clothes. With a mission to take the work out of dressing for work, M.M.LaFleur ignores stereotypes and empowers women to rethink the shopping process and focus on what matters while maintaining a professional appearance.
By offering something to women that their industries hadn't before, these feminist companies work to better the experiences of female consumers and make waves for themselves. Industry innovation is always a good idea, but when you innovate, try following these brands' example in ensuring that you stand behind the cause.