For Ben Franklin, the only certainties in life were death and taxes. When it comes to marketing though, there are two things you can know for sure.
1:  It is vital to your business success.
2:  Marketing isn't free.
Marketing costs can start to add up without the right strategies in place, making it critical to ensure every cent of your paid budget counts.
Facebook ads are among the most effective methods of paid advertising around today. But that's not the only reason you should consider making the investment.
Top 3 Reasons to Invest in Facebook Advertising
1. Facebook Ads Give You a More Focused, Larger Reach
Everyone and their mom are pretty much on Facebook today. Earlier this year, they reached 1.94 billion active users – which means they're getting real close to the two billion user mark. It also means the reach options are too big to ignore.
Take the Potential Reach and Estimated Daily Reach Results shown in one of our recent ads, for instance:

Chances are, your audience is already on Facebook. All you need to do is target them correctly.
Let's take a closer look at Facebook's Power Editor tool.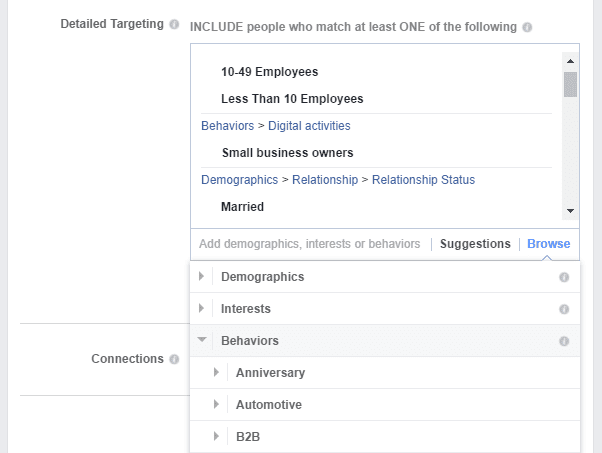 With precise targeting options, reaching your desired audience can become an exact science. This function enables you to refine based on interests and behaviors. Detailed Targeting also offers more demographics to work with – beyond simply categorizing by age, gender or location.
2. Facebook Ads Are Designed to Help in Every Stage of the Buyer's Journey
Your very first step when creating a Facebook ad is to determine your marketing objective.
There are 10 different options to help you achieve your goal:
You'll notice each approach is bucketed under a different stage in the buyer's journey.
This means your ad campaign approach can be modified depending on your objective – where you want to generate interest, get people looking for information about your business or encourage interested buyers to use your service.
3. Facebook Ads Can Be Cost Effective
A final bonus? Facebook offers a wide variety of pricing options, which means you don't have to break the bank to get started. We've run ads for as little as $2.60 a day. Affordable ad spend is possible – you just need to know your ad spend and set reasonable daily budgets.
Done right, paid advertising with Facebook and other platforms can be helpful – not interruptive – to your audience. As is the case with all paid efforts, Facebook ads work best when executed hand in hand with a larger marketing strategy.