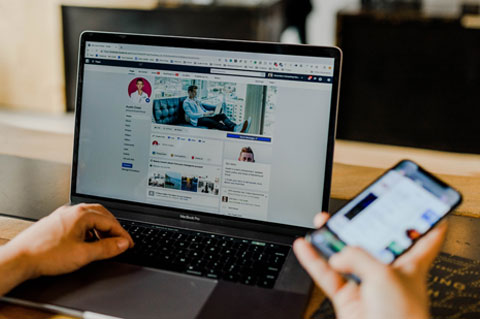 Boasting billions of worldwide active monthly users, Facebook's large audience makes it an incredibly effective tool for growing your business. While maintaining an active Facebook business profile is a must, companies can see even more success when they utilize PPC advertising campaigns on the platform. 
Creating effective Facebook ads first requires a basic understanding of what ad types the social network offers. Check out our overview of some of the most popular Facebook ad formats to further your Facebook advertising knowledge:
Facebook Ad Formats
Photo 
Photo ads feature a simple format using compelling copy, a single impressive image, and an accompanying CTA. This no-muss, no-fuss advertising option gets straight to the point. Facebook Photo ads are light on production for creators and don't require a hefty budget, either, making them the perfect option for PPC beginners. 
Video
As the name suggests, Facebook's Video ads allow pages to upload and promote a video for brand awareness purposes. Companies can get creative with their videos by utilizing 360ads which allows users to explore a scene by rotating their phone or using a click-and-drag function.
Slideshow
Slideshow ads provide a similar effect as videos but with much less effort on the creator's part. This ad type permits you to put together quick-moving slides that move people along a narrative. Facebook even provides free options of video editing tools, stock images, and background music to help make your ads stand out. 
Carousel
Carousel ads allow you to combine as many as 10 videos or images in a single ad for an innovative way to highlight your business's offerings that promotes a more engaging experience for Facebook users. Each image/video can link to its own page so that people may click to learn more about the aspects of your ad of which they're most interested. 
Collection
Collection ads are ideal for eCommerce businesses, as they showcase multiple products in a swipeable format with CTAs that allow users to make a purchase directly in the Facebook app. This product highlight provides a frictionless way for interested parties to purchase goods with ease, making it an ideal option for companies looking to boost sales. 
Facebook Ad Campaign Types
Page Likes
An effective way to build up your page following, 'Page Likes' ads invite audiences to follow your company page so they can regularly see your posts on their feed. When setting up a 'Page Likes' campaign, it's important that you advertise to a targeted audience who will be interested in your online presence to prevent a wealth of low-quality followers who don't provide any value. 
Post Engagement
Post Engagement ads highlight and promote a specific post to increase reach and get more activity on it. This is a great way to encourage interaction from your current audience while the "Like Page" accompanying button for those who don't follow you can bring in a new audience. The more people that like, follow, and share your post, the more eyes it gets in front of, heightening your organic reach. 
Lead Generation
Facebook's Lead Generation ads permit audiences to fill out conversion forms directly on the social network, minimizing steps taken to get to your desired goal and making users more apt to act due to convenience. Lead Generation ads feature a CTA, which brings them to a pop-up form to input their information quickly and go straight back to their regular Facebook browsing experience. 
Link Click
These ads encourage Facebook users to take advantage of an offer that takes place on your website, such as a discount code or app download. Essentially, 'Link Click' campaigns promote a singular web page with the intent of bringing in more site traffic. CTA buttons are customized to your ad's individual goals so that they match the desired action and leave no question about what will happen when someone visits your landing page. 
Event
Whether you're opening a new location or hosting a special event, Event ads help bring awareness to your local ongoing and encourage users to RSVP. The key to success in event ads lies within your targeting. You'll want to promote events to users who are nearby to avoid wasting ad spend on those who would need extensive travel to attend. 
App Download
This straightforward ad type aims to heighten app downloads. These ads quickly and plainly state an app's function and prominently feature a 'Download' or 'Install Now' buttons to get new users started ASAP. This direct access to an app download makes the process of installing your app quick and easy for Facebook users. 
Your ad type and format should always be chosen with your company's goals in mind. Even the simplest ad format will require great copy and targeting in order for them to be effective. Contact our PPC experts today to make sure your Facebook ads see the desired results.