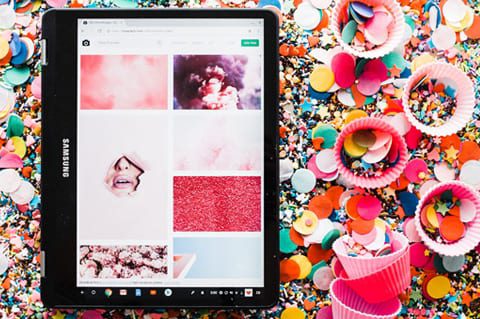 Whether you're looking to increase brand awareness or gain more website visitors, content marketing is an extremely powerful tool. While the benefits of content marketing are clear, knowing how to carry out a successful campaign is less obvious.
These brands are leading by example with their brilliant uses of content marketing:
Lush
In 2017, Lush launched their "Swish Upon a Star" social media contest, asking customers to upload photos and videos of beautiful bathwater created with their products as a means of entering to win.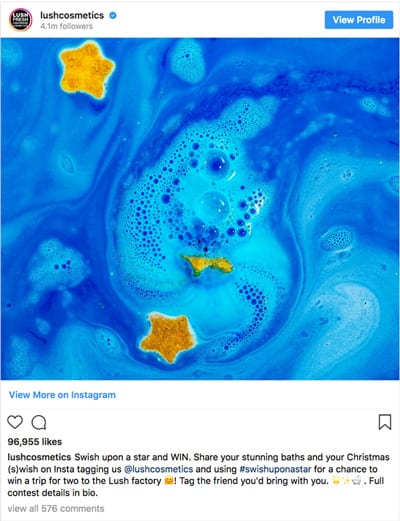 This campaign is an excellent example of how to collect user-generated content. By having customers create their own visuals, Lush acquired tons of free advertising with little effort on their end. The contest had no stipulations about the number of entries per person, resulting in a considerable amount of aesthetically pleasing visuals of the product in action.

Another benefit of creating contests surrounding user-generated content? Contests motivate followers to interact with your brand, further establishing a personal relationship with your customer base.
Hubspot
Hubspot utilizes content marketing to establish themselves as an authority in their industry. They offer a bevy of detailed informational guides to help educate their visitors, with a wide variety of content formats such as blog posts and ebooks. Hubspot's website focuses on teaching rather than selling, and by sharing their extensive knowledge, they showcase their value without coming off as pushy.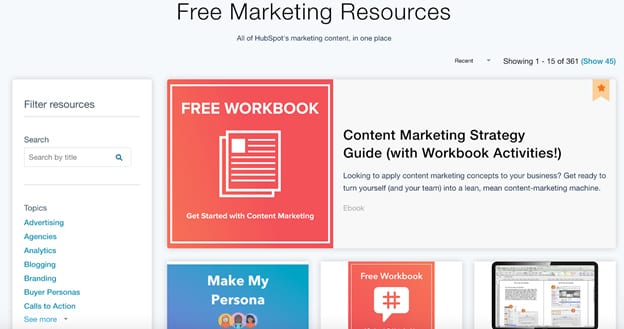 Providing your visitors with educational resources is a great way to prove your value. When you become someone's go-to for solving problems, you will earn their trust and be seen as a reputable voice in your industry. When the time comes for that visitor to make a purchase, you'll likely be the first company that comes to mind.
Coca-Cola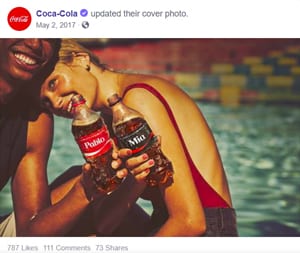 Coca-Cola's "Share a Coke" campaign features a vast list of familiar names printed on the side of their cans and bottles. The soda giant encourages consumers to share pictures of their beverages to social media with the hashtag #shareacoke. By using personalization in their content marketing strategy, Coke was able to make their customers feel like a part of something, rather than just a consumer.
What started as a unique way to implement personalization even resulted in a new product, with Coke now selling glass bottles that users can customize with a name of their choosing.
Oreo
When it comes to being timely and relevant using content marketing, Oreo truly takes the cake (or cookie, if you will). Oreo's social media strategies are always up-to-date with current events, posting graphics that reference real-time ongoings while cleverly incorporating their products.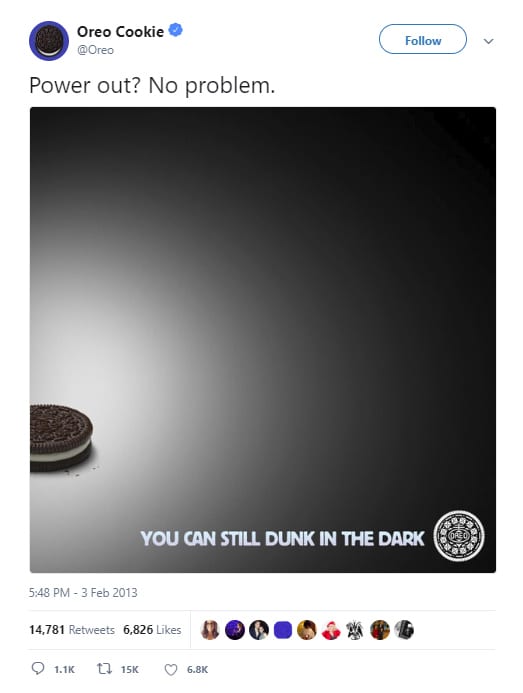 One example of this is their genius, well-known 'dunk in the dark' Twitter post. When the power went out at the Superdome during the 2013 Super Bowl, Oreo wasted no time in creating a social share referencing the debacle. With a simple text image stating "you can still dunk in the dark," Oreo was able to act fast enough to catch the trending topic of the power outage and gain some serious brand exposure.
Tailoring your posts to current events keeps your content relevant while provides you with a fun way to incorporate your brand with what's going on in the real world.
The Takeaway
Want to follow in the footsteps of these successful content marketing campaigns? Keep the following takeaways in mind when creating your next content offer:
Be timely

Provide value

Implement personalization

Give users incentive to interact with your brand
By implementing these simple yet powerful tactics, your company can begin to reap the rewards of a content marketing strategy that leaves an impression.