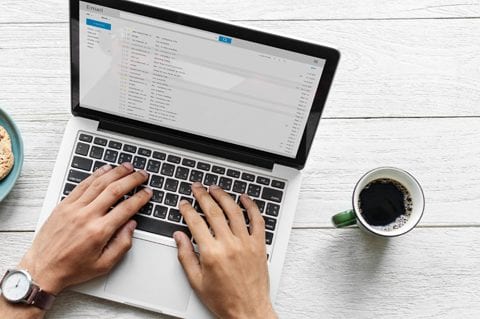 So you've got a new lead – congratulations! This should beg the question, "now what?". Leads won't turn into customers without some effort on your part, which is where lead nurturing campaigns come in. Once you've collected a prospect's contact information, it's important to continuously provide them with valuable content to move them farther along in the buyer's journey.
A typical email nurturing campaign consists of four emails:
Each one serves a specific purpose in lead conversion.
Your email campaigns should have a singular goal in mind, particularly an action you want to be taken. For example, you might have a nurturing goal for prospects to sign up for a product demo. Every email you send should be written to increase the chances of your recipient taking that action.
The Four Types of Nurture Emails
Before you can automate your lead nurturing efforts, you first need to build out an entire email nurture campaign. For those just starting, we've created a quick guide to the email types you'll use when setting up a campaign to convert prospects into customers:
1. Follow Up Emails
The follow up email is the first interaction you have with a lead once they share their information with you, so making a good impression is essential. You'll want to start by thanking them for taking action (by, say, downloading a free guide on your site) and immediately dive into providing them with additional resources related to that first touch point.
The primary purpose of this email is to prove value, so it's best to include one or two links that relate to the initial offer in an "Always Be Helping" approach. If you collect a prospect's information with a gated content offer, your follow up email will also include access to that resource.
Follow Up Email Template
Hi [Name],
Thanks for [action they took to receive this email]! I hope the information has helped [company name] get a better understanding of [content topic]. While [content offer] is a great starting point, there's plenty more to learn about [content topic].
I thought you might be interested in checking out our blog on [link to relevant resource] to find out more details about [content topic] and increase your knowledge on the subject.
If you have any questions or want to have a more in-depth chat around [content topic], please don't hesitate to reach out!
Best,
[Your name and email signature]
2. Soft Ask Emails
Now that you've adequately introduced your company and contributed additional valuable resources, you should start planting the seeds for the new action you ultimately want your prospect to take. It's still a bit too early in the process for an explicit request, so you'll want to incorporate your goal as a subtle suggestion after providing your lead with more informational content that's relevant to their interests. Keep in mind that once a prospect completes the goal you set, the automated campaign will stop running, so you don't have to worry about stuffing their inbox with the same request.
Soft Ask Email Template
Hey, [Name]!
Did [company name] find the resources in my previous email helpful on your journey to becoming a [content topic] expert? Well, there's more where that came from! Now that you know about [original content offer] and [topic of follow up email's additional resource], a great next step is to study up on [link to new relevant content offer].
This information is just the tip of the iceberg on how [your company] can help [what your product or service does]. Sign up for a free [your product/service] demo now for a taste of what we can do for [company name]!
Best,
[Your name and email signature]
3. Hard Ask Emails
After sufficiently proving your value and educating prospects on the topic of their interest, it's time to make a play for your main goal. It's best to start by showing appreciation for your lead's interest in your company. You'll then want to reiterate the value of your knowledge and services before asking them to partake in your desired action.
Hard Ask Email Template
Hey [Name],
In my other emails, I've linked you up with resources all about [content topic]. Now that you're up to speed on [content topic], it's time to start implementing these practices so that [company name] can reach new levels of success.
At [your company], we specialize in utilizing [content topic] to [result/outcome your company provides] for [clients/customers/patients]. Ready to find out more? Sign up for a free [your product/service] demo now, no commitment required!
If you have any questions about the resources I've provided or want to learn more about our services[/products], reach out today, and I'll be happy to clue you in on how it all works.
Best,
[Your name and email signature]
4. Breakup Emails
If you've gone through an entire email workflow with no response from your prospect, it's time to call it quits and say goodbye. Nobody likes being spammed with emails, so the breakup email offers the choice to opt-out. You can also use this opportunity to make one last effort towards your goal, but be sure to respect your recipient's wishes if they decide not to partake. Note: if a lead doesn't engage with this email, either, you can put them on a backburner list for a new nurturing campaign targeted around people that might not be ready for purchase just yet.
Breakup Email Template
[Name],
I haven't heard back from you on our [content topic] resources or my offer for a free [your product/service] demonstration. Perhaps you're busy or now just isn't a good time for [company name] to grow your [content topic] practices. Either way, I hope you've found value in the knowledge I've shared.
Regardless, I still think [your company]'s services[/product] would be a great match to achieve [company name]'s business goals. If you've had a change of heart, your free demo is available whenever you're ready – just reply to this email!
Best,
[Your name and email signature]
While these email templates are a fantastic tool to kickstart your nurturing efforts, it's vital to customize any email campaigns to your business and services, target audience, and content offers. Whatever your objective is, lead nurturing email campaigns are an incredibly effective way to encourage prospects to take action.
Capturing and converting leads into customers is a lengthy, complex process. HeadsUp Marketing specializes in creating engaging email campaigns with content offers to match. Reach out to our marketing experts today to grow both your prospect list and customer base.