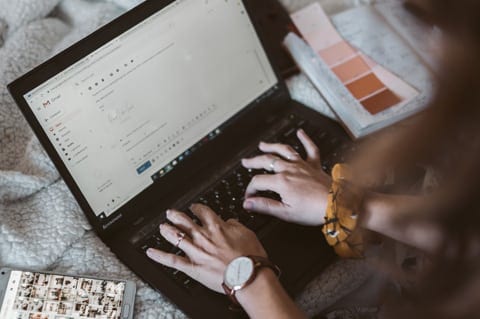 Excellent email design should grab attention, be pleasing to the eye, and should match your brand for recipients to immediately recognize your company. Email design is about creating an email that means something to your audience. Customers spend so little time scanning an email before deciding to abandon or stay. The goal here is to design an email that communicates value by looking at it and, in turn, allowing people to decide to stay. There's a lot of reasons why your email marketing might not be working. Like many other marketing strategies, there's ample room for experimentation. To help you get started, we've compiled some of our best practices, use them carefully. With great power comes great responsibility.
Strong subject line and preheader
Have you ever opened up your inbox to be met with a subject line that stands out from all of the rest? Maybe it was a clever one-liner, an important tip, or it made you feel like you were being talked to directly. These are the types of subject lines and preheaders you should be aiming for in your email marketing strategy. The subject line and preheader are your first impressions upon a recipient—your first chance to grab them and pull them in. Be sure to make these elements relevant, attention-grabbing, valuable, or even humorous at times. Spending extra time on these elements of your outgoing email campaigns will result in higher user interaction.
Be concise and declutter
The most important thing to remember when approaching email marketing is the few seconds you have to make an impression. Be concise and straightforward in your email copy. Giving your email recipients what they want quickly without delving into the details shows that you value their time, which may improve your subscription retainment. One of the great ways to help you be more concise is decluttering. Get rid of the fat. No one wants or will read an unorganized email. Customers will become overwhelmed, and the likelihood of unsubscribing just increased. Making your emails organized and easy to navigate will lessen the amount of space you have to say things, making your copy more concise, and your layout overall easier to skim. Use white space and media as section separators, and create a hierarchy of subjects for quicker navigation. Keeping to these ideas will make your email campaign a lean mean conversion making machine!
Call-to-action
Your call to action is an essential part of your email campaign. It is used to make conversions, generate leads, and provide value to your customers. Your CTAs should clearly show why they're valuable and be relevant to your customer's needs. Tailoring your CTAs to a specific recipient is a tactic that will increase conversions.

A/B test your design
Most of your marketing efforts include the process of A/B testing. Your email marketing is no different. Through this process, you will determine the changes and updates you need to make to increase the ability of your campaign's ability to convert leads. It could be modifying your CTAs or updating colors and fonts to be more on-brand. Whatever you're testing, make sure to optimize for the best results, and don't stop testing!
Email marketing is a great way to regularly put your company or product in front of your customers. Email campaigns can be extremely fruitful when approached the correct way. Here are some excellent email design examples to give you some inspiration: Best Email Design Examples. If you're looking to start your next email campaign, reach out to us for any help you need. Our unique process specializes in marketing techniques to create an email campaign that works for you!