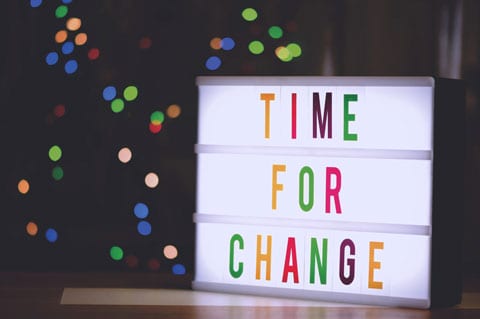 While the advantages of inbound compared to outbound are clear, companies may be hesitant to take the necessary steps due to confusion on how to do so or fear of the perceived amount of work the transition may take. However, there are plenty of simple ways to start implementing inbound marketing. Take the following steps for a smooth transition into changing your marketing campaigns for the better:
Integrate Inbound into Your Existing Outbound Campaigns
Old habits die hard, so it makes sense that a business may not be ready to let go of their current marketing ways. If you're still on the fence about fully transitioning to inbound, there are ways you can merge it with your present outbound marketing campaigns.
Direct Your Print Ads to a Digital Landing Page
Many CTAs for print media use a phone number as a prospect's desired next step, but this may not be ideal. For one, today's consumers are hesitant to talk on the phone for fear of receiving an obnoxious sales pitch or simply due to a general disinterest in phone calls. Secondly, prospects might need a bit more nurturing than merely seeing an advertisement. By including a URL or QR code in your print campaigns, visitors can get more information before deciding to take action and start a conversation with your company without having to pick up the phone.
Bring Social Media Into the Mix
No matter what venue your current campaign is using, implementing social media marketing tactics for said campaigns can make them even more effective. For example, edits such as reducing video length and ensuring sound isn't necessary will make current TV advertisements more social media-friendly. Placing these campaigns on social platforms can increase reach for little to no cost. Another simple way to get social with current campaigns is to include a custom hashtag in your ads. This can help bring the conversation online and incentivize viewers to post about your adsvertisements on their own social media accounts.
Change Your Mailing Habits
Much of randomly distributed direct mail winds up in the recycling bin before recipients even glance at the content. Email newsletters, on the other hand, provide plenty of benefits that old-fashioned mail falls flat on. Email marketing combats your company from coming across as spammy as you can create contact lists consisting of prospects who have signed up for eblasts so that your messages only reach those with an interest in its content. Online email sends also provide more opportunities for lead conversion as you can insert relevant links and CTAs in your messages that move leads further along the buyer's journey. Furthermore, email marketing allows you to analyze data to optimize your newsletter and track the ROI of your campaigns. If your business is already creating mailing content, transferring those materials to an online venue is a low-effort way to transition your marketing to inbound.
Make the Most of Old, Evergreen Content
You don't have to start entirely from scratch to begin implementing inbound marketing. From brochures to customer testimonials, your company likely has a wealth of past content to be repurposed for digital marketing. Accumulate all your current and previous sales and marketing materials and pull from relevant content to launch inbound campaigns. You can transfer these assets into various inbound venues such as blog posts, website copy, and social media graphics (making adjustments as necessary) to a quick launch of digital campaigns.
Making an operational change, such as switching to inbound marketing, can feel overwhelming, but it doesn't have to be. The inbound marketing specialists at HeadsUp are here to offer guidance and help you reap the benefits of inbound without the headache. Reach out to HeadsUp Marketing to start implementing inbound marketing for your business!