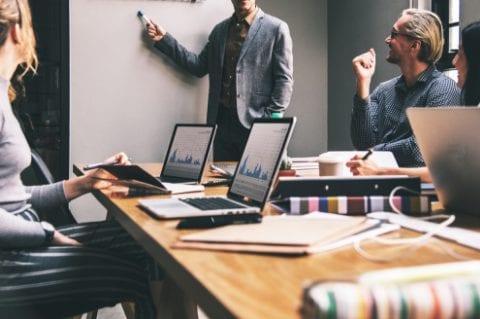 Digital content marketing is the strategic development of useful and educational online resources tailored to your target audience and buyers. Content creation and circulation aim not only to inform the reader but move them further along in the buyer's journey. Successful content marketing strategies will establish brand authority, generate quality leads, and increase traffic to your website.
How Digital Content Marketing Works
Want to reap the benefits of content marketing for your business? Follow these steps to get started:
1. Determine Goals
Before you can execute a robust digital content marketing strategy for your business, you'll need to establish exactly what you want to get out of it. Whether your company is interested in lead generation, creating a strong online presence, getting more site hits, or a combination of these, figuring out your objectives is essential in tailoring content marketing to your specific mission. Focusing on your end-goal will also tell you which KPIs you should be tracking to measure the success of your content marketing efforts.
2. Research & Strategy
Effective content marketing requires a strong strategy, which means you'll need to do plenty of research beforehand. The first thing to understand is your target audience and what they're looking for. Knowing this will help you create a content strategy that meets your prospects' needs.
Keyword research will also play a large role in your digital content marketing efforts, as using the right terms and considering keyword ranking difficulty in your plans impacts how easily your content is found on search engines.
3. Implementation
Once you fully understand your target audience and what keywords you want to rank for, set up a content calendar using that information and start creating your resources. There are a bevy of content formats available for marketers to choose from, such as infographics, ebooks, videos, blog posts, and podcasts. A fully-rounded digital content marketing plan will include a mix of these content types to appeal to different audiences and keep resources diverse. After you've created your resources, be sure to distribute them properly on all your social networks, and use hashtags to get them seen.
4. Analyze Data & Optimize
Following publication, you'll be able to look at your content as a whole and individually, as well, to see what's performing best. Use the KPIs chosen in the early stages of planning your content marketing to ensure you're tracking precisely what matters to your business. It's best to give each piece of content a few days before analyzing, so it has a chance to gather enough data to be accurate in performance rates.
This information will tell you what type of resources your audience is most interested in, as well as how effective your keyword strategies are, so you can tailor future content to improve your ROI.
Tips for Successful Content Marketing
Now that you know how to create a digital content marketing plan, brush up on best practices to ensure carrying it out effectively:
Meet Your Audience Where They're At
Your prospects won't all be identical, so you'll want to generate an assortment of resources that address relevant topics from a variety of angles. For example, potential buyers who are just starting to understand they have a problem will have different needs than ones who have a good grasp on what their pain points are. By creating content for each stage of the buyer's journey, you can appeal to every type of customer and have the resources available for when they reach the next phase of the sales cycle, too.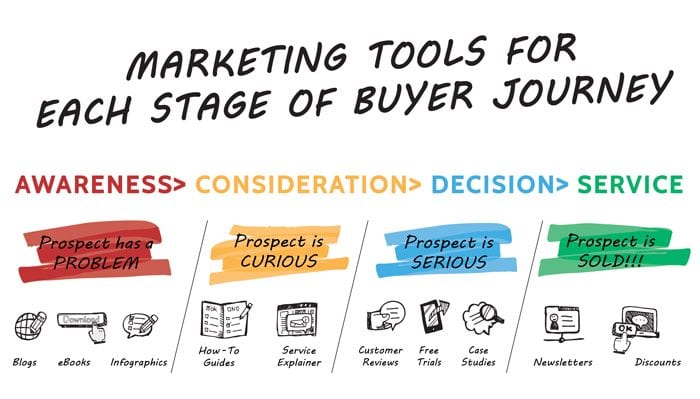 Get Graphic
While words can paint a pretty picture, so do pictures themselves! Adding compelling visuals to your digital content will diversify your resources and help break up long blocks of text. There are plenty of ways to get creative with your content's graphics, from visual examples of what your copy discusses to infographics. Experiment with different types of graphics to keep your content fresh and interesting.
Follow a Schedule
Once you've started putting out content, whether that be via a business blog or on your social media profiles, you must stay consistent with how often you publish. Nothing looks quite as unprofessional as an abandoned web page or social account, so determine a publishing frequency guideline at the beginning of your digital content marketing planning and stick to it. Furthermore, a regular publishing schedule will let followers know when they can expect fresh content.
Though digital content marketing does follow a general procedure, every business's strategy will be different. From industry type to your local area, your content marketing strategies will need to consider the specifics of your company and goals. Contact the experts at HeadsUp today to begin building marketing campaigns that work for you!