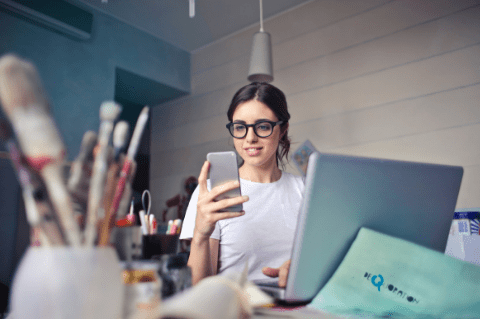 When you decide it's time to bring in a creative marketing specialist, it can be challenging to know where to turn. After all, with so many companies seeking your business, how do you tell them apart and figure out which one is a good fit?
To find the right creative agency for your company, you must establish the right selection criteria. Interview potential agencies and ask specific questions to determine if their solutions will benefit your business.
As you look for a creative marketing agency to partner with, consider the following factors:
Proven Industry Knowledge
Those who know marketing inside and out will be eager to share that knowledge with their audience. Do some digging to find out if the agency has any resources available and see what types of in-depth content they're writing, if any.
Social media profiles can also be a good indicator of industry expertise. Check if they are sharing a myriad of useful links from trusted sources or instead just sharing links from a single website. Successful marketers rely on research to remain relevant and should have multiple go-to sources they utilize to stay up-to-date on industry news.
Ready to learn more about marketing and how to scale your business operations? Sign up for our monthly newsletter!
Personal Touch
A marketing partnership is just that – a partnership, so it's crucial to know from the get-go just how that relationship will work. To implement the best strategies for your business, your creative agency should work closely with you to learn your goals and solve any concerns or changing objectives along the way.
Ask potential partners how their client onboarding process works to ensure their operational style aligns with your creative marketing needs. Will you have a single account manager as a reliable point of contact, or will you be bounced around from employee to employee?
When choosing a partner, you should also consider the agency size and number of clients they manage. For example, a large firm may have the bandwidth to achieve your goals, but your priorities could get lost in the shuffle if they are juggling tons of other clients.
Client Satisfaction
Before diving into a relationship with an agency, ask how long they've been working with some of their top clients. Steady, ongoing partnerships are a good sign that a creative marketing team delivers on their promises and prioritizes clients' goals and objectives for more than just the short term.
Client testimonials are another great way to check the pulse on whether or not an agency's relationships with their clients are in good health. If a creative agency can't provide you with any references, it might be a sign that not many of their current or previous clients have had a good experience.
Specialty Services
Perhaps one of the most essential tips to consider when choosing a creative marketing agency is to make sure they offer what you need. There are plenty of different firms out there that offer a variety of solutions for businesses. Take some time internally to figure out what your desired outcome is by partnering with a creative marketer, and work from there.
Once you know your creative marketing goals, narrow down the list of potential agencies to the providers that only offer services that align with your company objectives. For instance, if you're about to undergo a rebrand, you'll want to look for an agency that offers not only rebranding, but web design and SEO content strategy services to make a splash both on and offline.
If there's only one area of marketing your business is seeking out, a single-service creative agency might be a good option for you. However, if you'd like to ramp up your marketing overall and leave room for growth as your goals change, you'll want to choose a marketing agency with a more diverse scope of services.
At HeadsUp Marketing, we prioritize honesty and transparency in everything we do. When we partner with a new client, we want to make sure it's a good business fit for everyone. To learn more about our creative marketing solutions, reach out to HUM today!