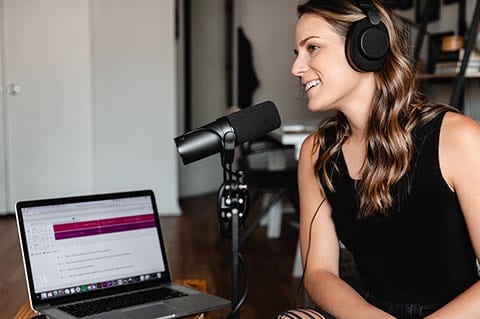 It's easy to overlook your brand voice. Companies need a unique voice to center their marketing content around. Your brand voice is a consistent and unchanging way of describing your company's personality. Without a solid foundation on your brand voice, it's nearly impossible to create consistent, cohesive marketing materials. HeadsUp's marketing specialist understands the importance of tone, voice, and its direct impact on content performance. You might be wondering how, with clients in so many different industries, we create a unique voice for each account that joins us. This is one of the biggest challenges we continuously overcome. Here are some techniques that we utilize to get us to a clearer understanding of what a company's brand voice may look like!
Research your audience
Having a deep understanding of your audience is crucial to creating a relevant brand voice. Without knowledge of your audience's needs, wants, or values, your content misses its target and becomes wasted energy. A great place to start if you're trying to understand your audience better is by releasing a poll through services like Survey Monkey or Crowd Signal. Some questions you might want to focus on would be:
How would you describe our brand? 
If our company were a person, what would it sound like? 
Do you find our tone appropriate? 
These questions can be anything, though! Whatever you feel you're missing and would help you curate better-targeted content with a relevant voice. Just be sure to keep the poll as short as possible! You'll get more responses if people don't feel like they have to take an exam. For more information on knowing your audience check out our blog on Finding Your Target Audience.
Understand your employees
Your employees are the building blocks of your company's culture. The things they do, say, and the way they act can directly impact how your brand is viewed in a social environment. Understanding your employees and ensuring their values match the company values is essential to creating a company culture. Culture will influence the content you produce and, in turn, affect the brand voice received by your audience. Get to know the people that work for you and help make outgoing content. Make sure they understand how to put your brand voice into action, and that all the content they create uses the same defined voice. 
Audit your current content
If you've been creating content and copy for an extended period of time, it may be time for an audit. It's good to regularly audit your digital content and marketing assets to ensure a cohesive brand voice. Marketing assets may include:
Website
Blog posts
Social media posts
Videos
Noting any common themes or messages will help you compare your current voice to the one used in the past. From this, you can see how your brand has evolved and whether it's better or needs improvement. Paying attention to your best performing content will also help you understand what is resonating with your audience! Here are some tips on auditing your website.
It's important to understand these characteristics of your audience and your company to craft the right voice for your marketing content. Our marketing team consistently creates unique written and visual content that creates a cohesive voice for our client's brand. Reach out to us for any of your digital marketing needs or if you need help getting a head start!