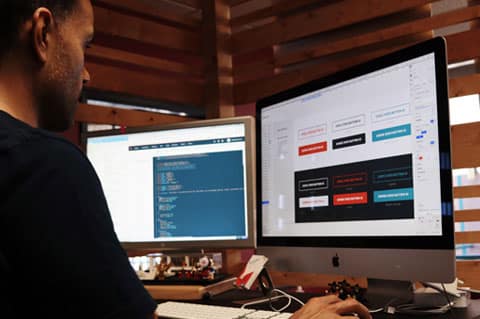 Your website design contributes to much more than just being aesthetically pleasing. Many aspects of design have a direct impact on the way customers interact with your company. Good design can lead to more conversions, while on the other hand, lousy design can prohibit your website from generating leads and making sales. Good website design can be challenging to achieve. Here are some guidelines and tips HeadsUp finds useful when using your design to convert!
Use the Goldfish Rule
It's no secret that our audience's attention span is shrinking. The average human attention span is a mere 8 seconds. That's all the time you get to make an impression. No pressure, right? You must approach your website design with the idea that your audience has the attention span of a goldfish. Doing so will ensure that you put your best foot forward and truly present what matters first. Visitors should see why they should do business with you or what value your product offers. These are some ways to grab attention with your design:
Make your headline brief, benefit-driven and to the point.
Make buttons and CTAs large, clear and simple.
Use hover effects on your buttons.
Use animations and interactivity to re-engage visitors who lost interest.
Make your value prop about what you can do for them.
Use Negative Space for Good
Negative space on your website is also known as the whitespace; or the space on the page that holds no content. Despite the name, negative space can be used for good when it comes to your web design. Without structured whitespace, all of the elements on your site would run together, and your content would be unreadable. Paying close attention to how you're using negative space in your design can make a page more scannable, which is vitally important as we all read website content through scanning. Making your site more legible in this way will increase conversions. Take a look at dropbox.com! They use a ton of negative space to keep the focus on their main call to action. Here are some rules you can follow to get you started on your journey through negative space!
Smaller font calls for more line-spacing.
Break up a large group of text, making them more manageable and legible.
Use ample margins and padding on the elements in your site.
Make Your Forms Short
It can be easy to try and collect a lot of information in your forms. For your visitors, the potential lead generation or conversion has turned into what feels like an exam. It's a good idea to keep your forms as short as possible. Make sure to gather only the essentials. Respecting the user's time can be pivotal in the conversion process. Taking up too much of their time can lead to them dropping off during the conversion process. Test out the number of form fields you're using to see what works for your conversion process.
Responsiveness
You've probably heard this a million times, but making sure your website design is responsive to your user's screen size is necessary. The goal of responsive design is to build a website that resizes and reorients depending on your visitor's screen size. Without this, the conversion process is nearly impossible on small devices. Your layout and content become unreadable, and some elements may become unresponsive. If you're still having trouble with responsive design, read up on what it is and how to achieve it here.
HeadsUp knows the value of excellent website design and will help you drive your conversion process with your new design. Reach out to our web design specialist and let us know what we can help you with!