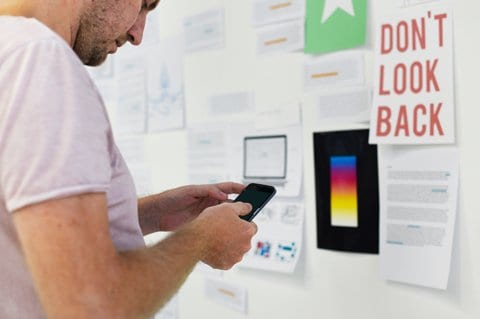 Sometimes an innovation comes along that changes the way an entire industry operates. While some brands may be satisfied with the norm, truly successful brands are always looking for ideas to shake it up and offer a new way of doing things.
These companies used the power of disruptive innovation to change their marketplace(s) for the better:
Netflix
While it may be only a distant memory for some, it wasn't so long ago that when you wanted to rent a movie, you had to visit a video rental store, peruse the titles, and return your rental back to the store in person to avoid paying extra fees. Entertainment buffs would peruse the aisles for the film they wanted to watch, and if the chosen title was out of stock, there wasn't much to be done about it.
The founders of Netflix recognized this pain point and created their online video rental service in 1998 to solve it. With the invention of Netflix, movie watchers could order the DVD of their choice and have it delivered to their doorstep, mailing it back when it was ready for return. It was a new and convenient way to rent movies.
The ability to rent, watch and return DVDs from the comfort of home resonated with consumers, and Netflix's popularity boomed. Online rentals quickly became the go-to way for watching movies at home, and the majority of buyers abandoned physical video rental stores altogether.
The company continues to change the game for DVD rentals, offering online streaming services that simplify the process of enjoying entertainment at home even further. Netflix undoubtedly paved the way for online streaming, creating a new and improved method for cinephiles to enjoy TV and film.
Related Blog: Marketing Advice from Stranger Things
Tinder
When online dating first entered the scene, finding a match could be a rather time-consuming process. Users were forced to click through a myriad of profiles before finding someone that sparked an interest.
In 2012, Tinder launched a mobile app to streamline the matching system, becoming the first online dating service to offer the ability to swipe on profiles. The app allows daters to quickly swipe left or right on profiles to indicate interest, with the whole process at the tip of their fingers.
This new swiping feature took the online dating world by storm, with many other dating apps following Tinder's lead and implementing a swipe option in their iterations. Dating website giants like Match and eHarmony were forced to adapt to remain relevant to users, creating mobile apps to complement their web presence.
Uber
If you've ever ridden in a taxi cab, you should already be familiar with what a hassle the whole ordeal can be. From trying to hail down a driver or scheduling a ride ahead of time to expensive fees, nothing about taking a cab is easy. When Uber's ridesharing app launched in 2010, the transportation industry changed in a big way.
By leveraging smartphones, Uber was able to make scheduling a car service easy and straightforward. With the ability to order a ride with just a touch on their devices, riders no longer had to call in advance or worry about hailing down a cab to get to their destination. The company created a service that's ready whenever a rider is.
When Uber first emerged, the service was actually more expensive than a cab ride. Over time, however, the rideshare company found ways to decrease prices with ranging costs based on a handful of variables such as car size/quality, driver availability, distance, and shared rides. Uber and other rideshare apps such as Lyft have become so ubiquitous that the taxi industry has taken a big hit, and yellow cabs now have their own app to remain competitive.
Changing your processes can be a risk, but these companies prove that disruptive innovation majorly pays off. By streamlining the way your industry does things and coming up with new ideas, businesses can quickly go from just another competitor to being an industry leader.
Do you want your company to stand the test of time? Don't wait for your competitors to change the game, leaving you struggling to catch up. Contact HeadsUp Marketing today to see how we can innovate your brand!