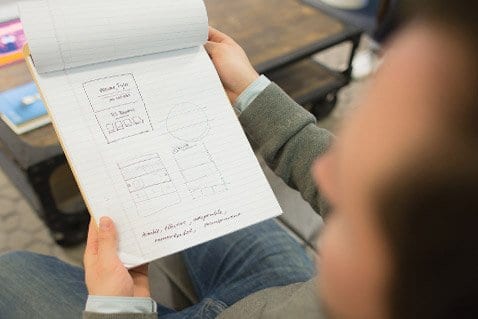 As a growth agency, we often hear marketers lament about how the rest of the company just doesn't 'get' content or how valuable it is for the business. Sometimes when we talk to c-level executives, it's plain to see that they aren't totally clear on the value or purpose of content marketing.
If you don't know the right way to manage these concerns, conversations around strategy can go stale quickly. When someone at the top resists new marketing ideas, it is likely because they have archaic notions of what marketing looks like or possibly don't understand the results marketing provides.
Though resistance can be a blocker, there's no need to let misconceptions stop your marketing progress. Instead, take a walk in your exec's shoes to figure out their objections and determine your best approach for solving the pushback.
Whether your CEO knows it or not, content marketing has forever changed the way we do marketing. Read on to discover common signs that your executive team doesn't trust content marketing and methods to dissolve that mistrust.
They Think the Company Blog Should Only Focus on the Business
Misconception: "Our blog should tell people how great we are."
If a CEO suggests that your blog should only talk about the company news and updates, it's a sure sign that they don't completely understand how relevant content helps achieve marketing and sales goals. When blogs focus solely on what a business has to offer and never delivers solutions to meet customer needs, audience opinion will sour.
With search engine optimization and Google's ever-changing algorithm, gone are the days when companies could post a constant stream of articles focusing on their products and services alone. If your content has a "Me, me, me!" tone, it won't attract customers – it will repel them.
What's the solution? As you create your content calendar, make sure to think about your business objectives and how your blog aligns with these goals overall. If you're getting resistance on the chosen titles, try to involve others in the process. Gather topic ideas not only from your executive team but from people throughout your company, such as sales or customer service reps. You never know who might have a unique perspective on what your target audience wants to learn more about.
Related Blog: The Importance of Consistent and Frequent Blogging
They Only Care About Content that Closes Deals
Misconception: "If this content doesn't make a sale, it doesn't matter."
If you've ever had someone tell you "this content will never lead to a sale," consider it a red flag. A comment like this is a huge indicator of a shortsighted bottom-funnel focus, which can be damaging. Yes, converting leads to customers is essential. However, if you don't have any content for visitors that aren't ready to purchase yet, you'll be missing out on a chance to nurture people into warm leads.
What's the solution? To encourage c-level executives, think about the big picture and try to find ways to illustrate how content marketing ties into it. You'll want to explain that the blogs, website copy, social shares, and other content you create today will generate traffic in the long term. Use industry statistics and historical data where you can to support your position.
They Think Social Media Doesn't Provide Any Value Whatsoever
Misconception: "We're wasting our time on social media."
Social media can be tricky to navigate. For most B2B and B2C companies, social directs a smaller traffic segment than other sources. With metrics made up of 'Likes' and shares, the average strategy is more focused on engagement than a heavy-hitting lead generation strategy. Unless you have off-the-charts social ROI, attempting to prove your return for social media will more than likely 'prove' your CEO's point, too.
What's the solution? If your CEO is skeptical of spending time on social media, appeal to their desire for more productivity. With a strong social process in place, it takes no time at all to produce a great deal of content. Plus, Facebook and Twitter are excellent resources to share company news and humanize your brand.
They Are Hyper-Focused on Your Website's Homepage
Misconception: "We aren't getting enough traffic; we must need a new homepage."
Looking back at the not-so-distant past, the homepage was like a bright online billboard for a company. But the homepage isn't the end-all, be-all for your website content. In fact, modern home pages should be like an easy-to-ready signpost, pointing visitors in the right direction and to the content they need.
What's the solution? Use website traffic data to prove to your CEO that you don't need to put marketing dollars into a single page when you can leverage your entire site to the company's advantage.
Remember, you can communicate your marketing concerns with your executive team and meet them halfway using the techniques we've recommended here. Take responsibility as the marketing expert! Bridge the gap from traditional concepts to more current content marketing ideas. Not sure where to begin? Reach out to HUM today!

Originally published December 2016, updated March 2019 for clarity and accuracy.