Email marketing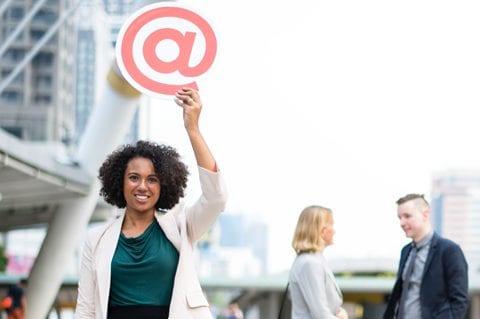 is a tried and true method for businesses across all industries. With so many different reasons to reach out to someone, it's essential to tailor your message to the email's purpose.
These three business email examples and templates will help your company create emails that make a mark:
Welcome Emails
When beginning communication with a new prospect, it's important to start your relationship off on the right foot. First impressions matter, so be sure to delight your lead and show them just how much your company has to offer.
Welcome Email Example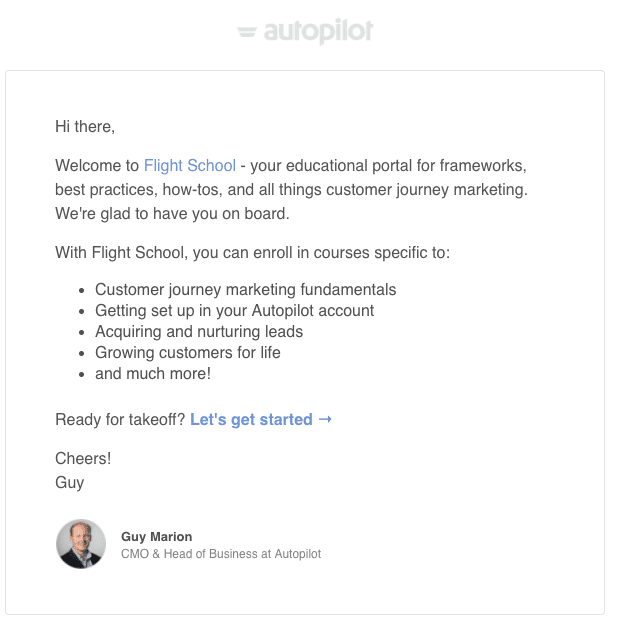 Autopilot's welcome email is short and to the point while still clearly outlining the benefits their new subscriber will get from joining their email list. The marketing automation software company uses bullet points to get the reader excited about what's to come. Just because someone has already subscribed to your emails, that doesn't mean you should stop selling them on the value of your content.
Welcome Email Template
Subject: Welcome to the [Your Company] Blog!
Hi [Name],
Thanks for subscribing to the [your company] blog! You'll now get all our latest posts sent straight to your inbox so you never miss any content. 
You can look forward to receiving valuable resources such as:
[A bullet point on your content subjects]
[A bullet point on your content subjects]
[A bullet point on your content subjects]
Can't wait for new posts? Read up on one of our most popular blogs, [post title with blog hyperlink] to get your [blog subject] knowledge fix!
Best,
[your name and signature]
Lead Nurturing Emails
Delighting your prospects and providing them with useful resources should be an ongoing effort. Once someone has opened the door to communication by downloading one of your offers, you can begin sending them relevant content to show the other ways they can benefit from your company.
Lead Nurturing Email Example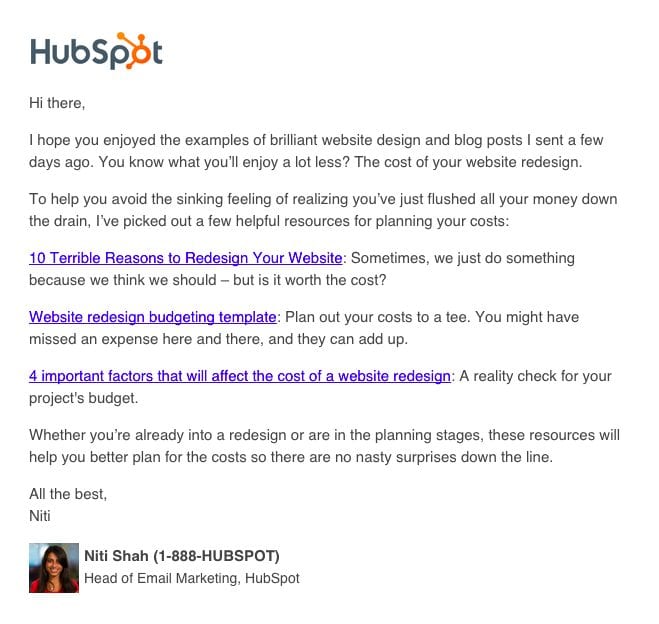 HubSpot's lead nurturing email is an excellent example of how to turn a downloaded offer into more opportunities for growth. The email starts letting the recipient know why they're reaching out, which is crucial so that the reader doesn't feel like the email is out of the blue. By providing additional links related to the original download, HubSpot successfully caters to the reader's interests while promoting more of their content.
Lead Nurturing Email Template:
Subject: Here's what we left out of [ebook title]…
Hey [name],
Thanks again for your interest in our guide, [ebook title]! We hope you came away from our guide with actionable ideas to help [recipient's company] grow.
Now that you know more about [ebook topic], we thought you might want to check out these additional resources to further your knowledge:
[ Hyperlinked blog/content offer with a brief description]
[ Hyperlinked blog/content offer with a brief description]
[ Hyperlinked blog/content offer with a brief description]
Want to learn even more about [ebook topic]? Feel free to reach out, we'd be happy to answer any questions you may have!
With regard,
[your name and signature] 
Want more sample resources? Check out our blog on Writing Effective Brand Awareness Survey Questions!
Testimonial Request Emails
Client testimonials are a fantastic way to show prospects how satisfied your current customers are so that they can learn to trust your company before you even make a sale. It's unlikely that your clients will provide you with a testimonial without a prompt, so you'll need to find a polite way to ask for testimonials if you want to receive a glowing review.
Testimonial Request Email Example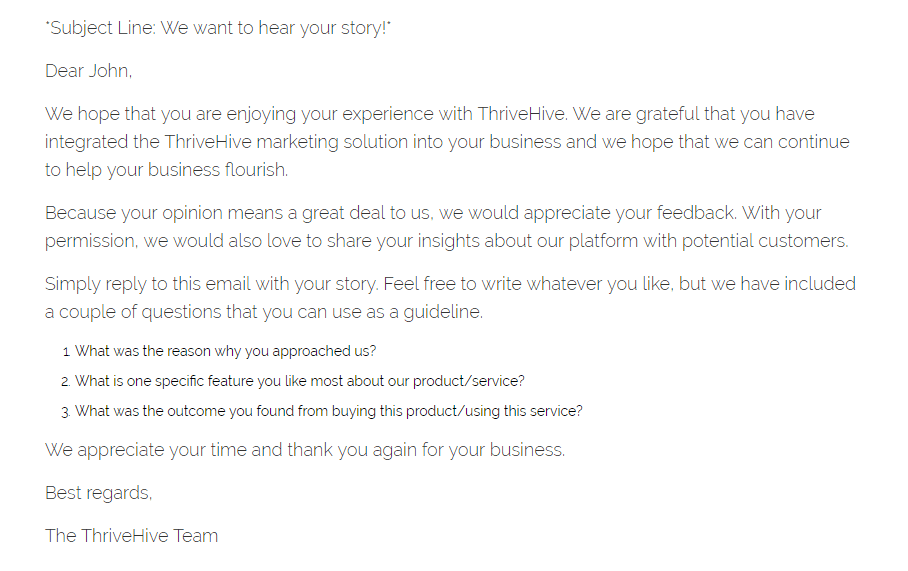 This request for a testimonial demonstrates how to ask your clients for a favor without coming off as pushy. One reason this email is so effective is because ThriveHive makes the task easy, providing a short list of questions to answer rather than asking clients to come up with feedback on their own. ThriveHive also expresses client appreciation before making a request, giving the recipient more incentive to help them out.
Testimonial Request Email Template
Subject: How are we doing?
Hi [name],
We wanted to let you know how much we appreciate your business. Working with you has been a pleasure, and we hope our services have helped your company reach new levels of success. [Your company] is always looking to improve our processes so that we can provide the best results for our clients.
We value your opinion, and we would love to hear your feedback on your experience with our company. We've created a [short survey -insert hyperlink] for you to fill out so that we can better serve you.
Thank you for your time, we look forward to hearing from you!
Best,
[your name and signature] 
Crafting the perfect email takes a lot of effort, but by using these templates, you can start implementing email campaigns that see results.
Want your emails to impress prospects and customers alike? The marketing specialists at HeadsUp create compelling email campaigns using data to optimize the content for success. Contact us today to get started!