Throughout June, many brands take advantage of Pride month by slapping a rainbow on their products or voicing support of the LGBTQ community on social media without much thought.
This low-effort marketing tactic has been widely mocked in its tacky attempt to cater to a minority group without any real show of support.
nobody:

corporations during PRIDE: pic.twitter.com/zQf8Cvl3MG

— FETCHING KEI (@blackboikei) May 31, 2019
While it's been said over and over that brands should be doing more during Pride month to support the LGBTQ community and not just market to them, some companies are doing it right. This Pride, we're shining a light on brands who are doing their part to make a difference for the queer community.

Source: IKEA
For 2019 Pride month, home goods conglomerate IKEA is offering an alternative to their highly recognizable blue shopping bags with new multicolor bags available for a limited time. All proceeds for the special edition bag are given to the Human Rights Campaign Foundation, an organization that aims to help the LGBTQ community gain equal rights.
If you check out the IKEA website during June, you'll also see a festive rainbow icon linking to the online shopping cart, a celebratory nod to the limited-edition shopping bag.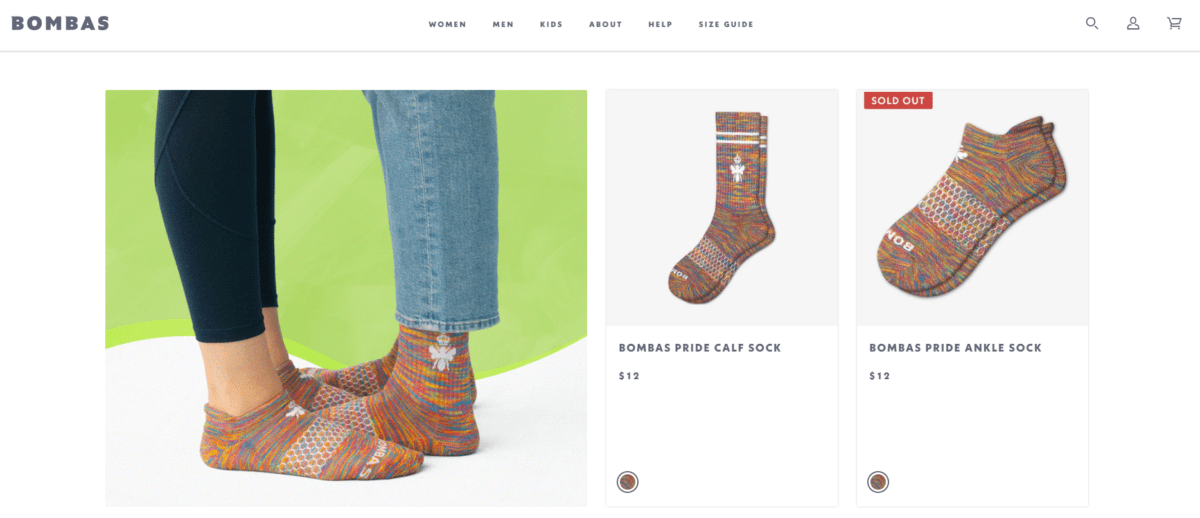 Source: Bombas
Bombas, an apparel company, already makes an effort to better the world by donating a piece of clothing to homeless shelters with every purchase, so it's no surprise that they are taking action to back up their support of gay rights.
To celebrate Pride, Bombas partnered up with The Ally Coalition to create a Pride-themed line of socks and is donating 40% of the profits from purchases through June to help homeless youths in the LGBTQ community. Thanks to Bombas, you can keep your toes and your heart warm at the same time.
Source: Harry's
Harry's is a grooming and shaving company with a mission to make a difference, donating a percentage of their annual sales to organizations that support men's mental health. In honor of Pride month, the shaving brand introduced a Pride-themed shaving set designed by Madrid-based gay artist, José Roda.
The limited-edition shaving set features a one-of-a-kind iridescent razor, blade cartridges, shaving gel, and a travel cover. All proceeds for this product will be donated to The Trevor Project, a crisis and suicide prevention organization for queer youths.
Youth To The People is a skincare company that provides products "for everyone, for every day." The passionate business is celebrating inclusivity this month with a Pride edition of their SuperFood Cleanser, donating all profits from the product (up to $50,000) to GLSEN, an organization that works to make schools a safe space for the LGBTQ community.
When it comes to advocating for social causes, it's essential to put your money where your mouth is. If your brand claims to support a movement, you should take purposeful measures to help that community. While rainbow-themed social graphics and products may be cute and well-intentioned, real change can only occur with action.
Sticking to your company values and being a voice for change is a corporate responsibility that no brand should take likely. Reach out today to find out how to make your business better.