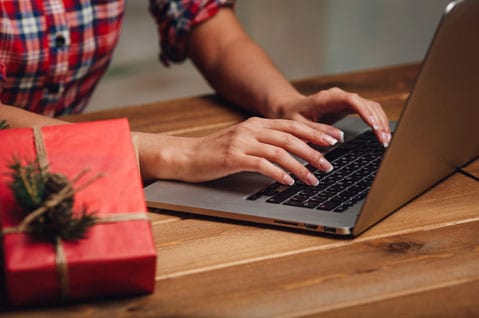 The holiday season is one of the busiest times of the year for retailers and consumers alike. More and more, people are going online to make purchases. That's why understanding which words and phrases sell (or repel) your potential buyers is so crucial.
We've created this holiday marketing guide to help you effectively communicate with seasonal online shoppers. To ensure your holiday sales are merry and bright, keep this list handy for the next time you craft an email or social share.
Most Positive Marketing Phrases
To write an irresistible subject line, try using words that pack a punch:
You –

Words like "you" and "your" are simple, personal terms that let customers know the content was written with them in mind. As you write holiday messages, make your prospect the subject. Sprinkle in their name for an added personal touch.

Be the first

– Who doesn't enjoy exclusive access? With this simple phrase, turn your audience into VIPs and provide a sneak peek at new products, future offers or quality content.

Thank you

– Expression of gratitude goes a long way. Show your customers a little love by spreading your appreciation. When you reach a new goal, send a personal email or handwritten note to thank supporters.

Now

– This word encourages action and creates a sense of urgency all at once. Usually "now" is used as part of a call-to-action. Examples include: Act now, Subscribe now, and Shop now.
The Worst Marketing Words
For most content writers, creating a compelling headline or catchy seasonal pun that can grab readers' attention is a job well done. But some terms can actually put off consumers and deflate your sales:
SAVE NOW

– With all marketing copy, best practice mandates you actively AVOID USING ALL CAPS. We're sorry for yelling! It's important you know that capitalizing every letter creates a "screaming" effect that often makes words appear loud and jarring.

Free

– According to MailChimp,

the word "free" triggers spam filters

. The terms

help

,

% off

, and

reminder

are also flagged as spam.

HUGE SAVINGS!!!  

– When it comes to punctuation, keep things simple. While fun to use, extra exclamation points don't make your sale or offer any more enticing.

Internet slang

– You don't have to resort to memes to make a connection with buyers. Trust us, keeping customer interactions light and personal doesn't require you to refer to them as your #MCM or #WCW.
As you create your holiday marketing content, check this list twice (or as many times as you need) to ensure your copy is fresh and engaging for potential buyers.
Do you have any go-to marketing terms or phrases? Feel free to share them in the comments below!

Editor's Note: This post was originally published in December 2016 and has been updated for clarity and accuracy.