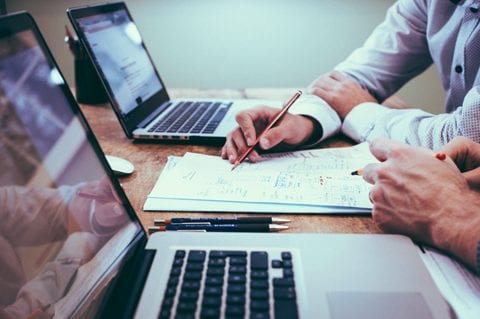 When you're just starting out, the early stages of SEO (or search engine optimization) can leave you feeling lost.
While there are many technical roadblocks to SEO, having a guide to walk you through on-page and off-page SEO will start you on the right foot for improving your search rankings in 2019.
Free Template: Use this interactive checklist as your personal SEO roadmap.
This checklist is by no means exhaustive, but it serves a to-do list of the basic areas you need to cover for your SEO this year.
On-Page SEO
1. Heading Section Order
Make sure your web pages' meta tags are listed in the correct order. Search engines will pull the title and description for their results pages, making it the first thing search engines see.
Title tags should be roughly 9-10 words long.

Description tags should be about 156 characters (anything longer will get cut off).
 2. Heading Tags
Your first heading tag should be <h1>. The rest should follow: <h2>, <h3>, <h4>, and so on. Headers serve as a table of contents for search engines and, more importantly, users. Search engines will pull information from your header and sub-headers, so this is a great opportunity to plug in keywords, as long as they fit what you're talking about.
3. Alt Text
Search engines can't read photos, so be sure to have alt text for at least one image. Alt text is another area where you can add your focus keywords so that search engines can easily understand and rank your images, as long as that keyword is relevant to the image used.
4. Links
Internal and external linking still plays a significant role in search rankings. Internal links click through to other parts of your site, while external links redirect users to outside authoritative sites. A healthy mix of the two establishes your credibility; just make sure the links are from a reputable source. Low-quality links cause more harm than good to your site.
Off-Page SEO
5. Your Sitemap
Although not required, it helps speed things up if you submit your XML sitemap to search engines like Google. It also helps to have every page link to the HTML sitemap, usually in the footer.
6. Keyword Strategy
The most effective keyword strategies are constantly evolving. SEO best practices encourage constant, extensive keyword research to produce results. When starting out, it's best to focus on a few priority keywords that aren't too difficult to rank for but yield decent monthly search results.
7. Website Analytics
Since this is a basic checklist, we won't get too technical, but it's essential to set up your website analytics properly. Google Analytics is a free tool that can provide incredibly valuable insights into how your website and content is performing.
8. Server Configuration
Get in the habit of checking your server for errors. Google Search Console is another free tool that is great for diagnosing and correcting critical SEO errors. You'll also be able to test how Google understands your content, ensuring you've taken all the proper steps in establishing your website's presence.
Not sure if you're doing the items listed above correctly? Let us know if you have any questions on SEO best practices.
Editor's Note: This post was originally published in November 2015 and has been updated for clarity and accuracy.