Airbnb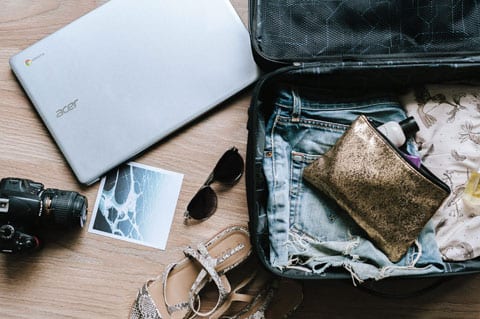 is one of the most well-known disruptive innovators out there, but it isn't just industry ingenuity that has lead the company to such high success and visibility. Take a look at how Airbnb used marketing to evolve their brand and stay at the top of their game:
Discovering Brand Identity
While Airbnb has an incredibly strong brand identity now, this wasn't always the case. When the homestay company first emerged in 2008, they saw success from their unique travel offering but weren't yet fully aware of what their company was beyond these services. 
In 2013, Airbnb did some soul searching to discover exactly what message they wanted to convey. The brand's head of community, Douglas Atkin, sought out the answer by interviewing guests, employees, and hosts alike. After speaking with hundreds of people who had interacted with Airbnb, it became clear that their company's main purpose was making travelers feel like they belong rather than just being tourists. 
Airbnb took their newly found brand identity centered around belonging and implemented a logo redesign. Thus, the "Bélo" was born, Airbnb's symbol for belonging that represents people, places, love, and of course, Airbnb. They paired this new logo with an official tagline, "Belong anywhere," and a design refresh for their app and website to reflect this idea. 
Walking the Walk
Airbnb stays true to their mission statement of helping people belong by extending this idea beyond travel with their stance on social issues. In 2017, Airbnb launched their "Until We All Belong" campaign in protest of same-sex marriage not being legal in Austrialia. The homestay brand created "The Acceptance Ring," a ring with a noticeable break in the middle of it symbolic of the marriage equality gap.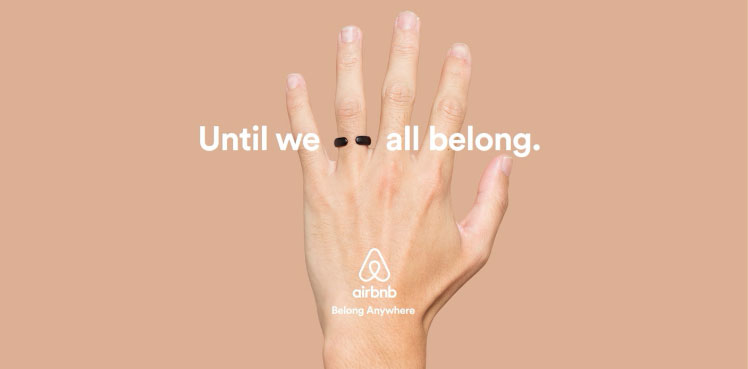 Source: Adweek
It's not just social statements that make up Airbnb's humanitarian efforts, though. The caring company also utilizes the tools at their disposal to help make a difference for those in need. When President Trump's executive order in 2017 left refugees stranded, Airbnb offered free room and board to those affected. 
Content that Resonates
Whether it's blogs, videos, or photography, Airbnb is constantly publishing new content across multiple channels. While many brands have heavy content marketing strategies in place, Airbnb's is particularly effective because they focus on storytelling rather than overly promotional content. 
The homestay company's blogs and videos feature tales from travelers who have used their services. They also make use of user generated content in their Instagram posts with stunning photography taken by customers that showcase the beauty of various travel destinations. 
While customer stories are a large part of the brand's content marketing appeal, Airbnb also makes sure their resources provide value for their audience. Airbnb has a wealth of neighborhood guides and travel guidebooks available to help globetrotters make the most of their chosen destination. These handy guides feature everything from local dining and entertainment recommendations to maps and tips on dealing with public transit. 
Airbnb is a great example of how impactful marketing can be for brands. By creating a strong brand identity and providing compelling resources, Airbnb was able to go from a buzzworthy newcomer to a staple in the travel industry. Looking to make waves for your business? Contact the Inbound marketing specialists at HeadsUp today!